Sotheby's Sells $1.1 Billion of Art as Shares Sink on Guarantees
Auctioneer won't recoup $515 million guarantee until 2016

Sales set records for Frank Stella, Cy Twombly, Mike Kelley
Sotheby's sold $1.1 billion of art in its largest ever semiannual auction season, boosted by billionaire money manager Steven A. Cohen's Andy Warhol painting and the estate of its former chairman.
The results came at a cost. The auction house issued the biggest single guarantee of $515 million to win the art trove of A. Alfred Taubman, who died in April. Sotheby's said on Nov. 9 that it won't know if the collection was profitable until 2016, cutting its fourth-quarter outlook. The stock dropped 16 percent this week before rising 4.8 percent at 10:40 a.m. in New York trading.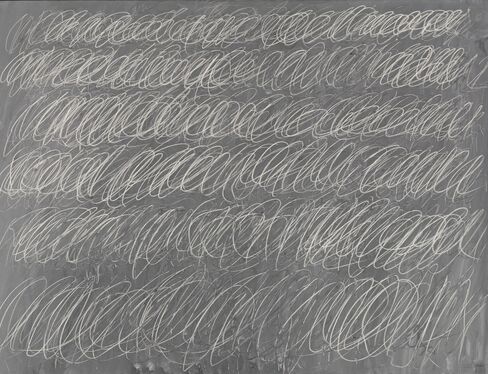 After a six-year rally in art prices, a battle for market share and top lots is eroding auction houses' profitability. Sotheby's earlier this week reported margins that missed analysts' expectations, and said revenue declined, in part, because middle-market buyers are more selective.
Own Level
Bidding was thin even among some high-ticket works. At its contemporary evening auction on Wednesday, there was one bidder for Cy Twombly's 1968 painting of rows of chalky loops on a gray surface that fetched $70.5 million, a new auction record for the artist.
"The market is setting its own levels instead of being dictated by the auction houses," Edward Tyler Nahem, an art dealer, said at Wednesday's sale. "So often the estimates are coming not from the market reality, but out of fear that the competition will get the material."
Sotheby's auctions were part of the semiannual, bellwether sales of Impressionist, modern, postwar and contemporary art in New York that began Nov. 4. Sotheby's, Christie's and Phillips are aiming to sell more than $2.1 billion of art. These sales are the first big test of the art market since third-quarter volatility in the financial markets has dented the confidence of investors.
Beat Rival
On Wednesday evening, Sotheby's sold $294.8 million of contemporary art. The results fell within its presale target of $254 million to $313.7 million, but were 15 percent less than a year ago. Of the 54 lots, 81.5 percent found buyers and 10 objects failed to sell. Coupled with auctions of Impressionist and modern art as well as two Taubman sales, Sotheby's results surpassed the $1 billion mark before its rival Christie's.
Christie's sold $823 million of art this week, including the $170.4 million Amedeo Modigliani painting of a nude, which became the second-most expensive artwork at auction. The company holds its Impressionist and modern sale on Thursday evening.
"We made money today," Alex Rotter, co-head of Sotheby's worldwide contemporary art department, said after Wednesday's sale. "It's only good when everyone walks away from the auction feeling that they had a good deal. And that includes the auction house."
Estimates Right
The auction started with dizzying bidding for paintings by Frank Stella, Mike Kelley and Rudolf Stingel. Paddles went up all over the room at a furious pace. Paolo Vedovi, a Brussels-based art dealer, waved both arms above his head in an attempt to get the auctioneer's attention. Actor Leonardo DiCaprio watched from a skybox.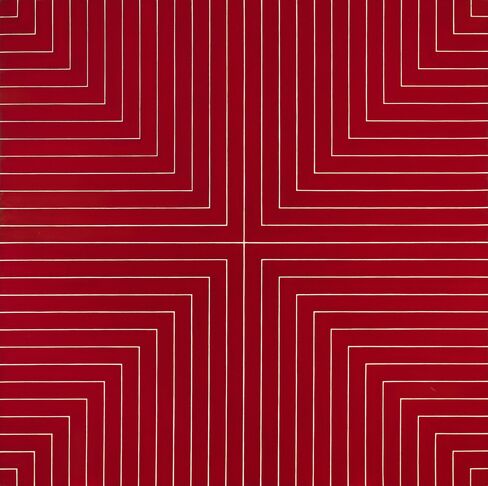 "The market is alive and kicking," said art dealer Christophe van de Weghe. "Sotheby's did a good job getting the estimates right."
The evening's first lot, a small red geometric canvas by Stella, a 79-year-old American artist whose retrospective is at the Whitney Museum of American Art in New York, sold for $1.2 million, more than twice its low estimate. Later in the sale, a much larger Stella painting, depicting a succession of squares in various hues, fetched $5.4 million, surpassing its high presale target of $3 million.
"It's Frank's time," said Marianne Boesky, whose New York gallery represents the artist. A week earlier, Sotheby's sold a large Stella painting for $13.7 million, a new artist auction record.
Pins, Pens
Warhol's "Mao," consigned by Cohen, fetched $47.5 million. Kelley's 2001 work, made with densely layered found objects such as pins, pens and plastic beads, sold for $3.1 million, an auction record for the late American artist. Prices include buyer's commission charged by the auction house; the estimates don't.
A large 1987 painting by Jean-Michel Basquiat, bought by the seller from the artist, who died in 1988, fetched $8.3 million, more than three times its high estimate of $2.5 million.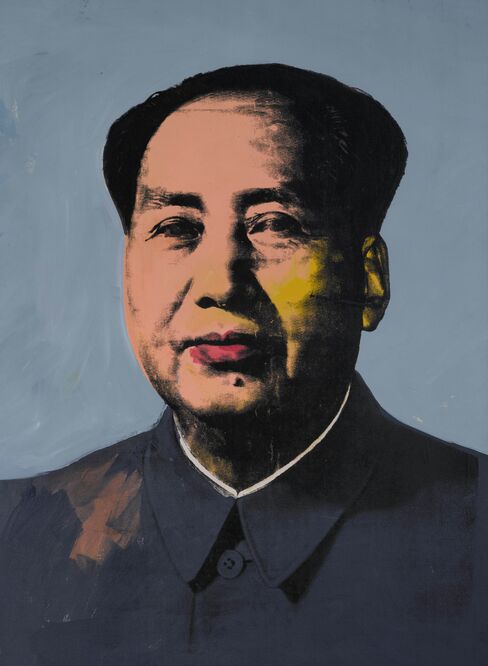 Just four lots in the sale were guaranteed -- Christie's similar auction had 14 guarantees -- and Sotheby's outsourced the risk on each of them to collectors willing to place irrevocable bids on the works.
"We had a lot of money riding on Taubman, so the contemporary sale was put together in a traditional way," said Rotter. "We designated three star lots. We had very few guarantees."
Lowest Level
Sotheby's shares fell 3.9 percent to $28.71 on Wednesday in New York trading, their lowest level in almost three years.
Analysts warned of lower fourth-quarter profits after Sotheby's said on Monday that it won't report revenue from the sales of more than 500 works from the Taubman estate until they exceed the $515 million in guarantees to sellers. The company needs to generate an additional $95 million in sales and commissions to cover the guarantees, and that may not happen until the first quarter of 2016, Sotheby's said.
"There are concerns about the slowdown in the middle market and the impact of the Taubman collection on the fourth quarter," Kristine Koerber, a senior analyst at Barrington Research,said in a telephone interview. "Overall global economic uncertainty is also weighing on the share price."
In an interview after Wednesday's sale, Tad Smith, Sotheby's chief executive officer, said, "Our focus is on running the business well and if the results are there, the share price will follow. This sale was the magic of this week. I am thrilled."
Warhol's Market
The evening's casualties included three paintings by Warhol, with the combined low estimate of $10 million. At Christie's on Nov. 10, four paintings by Warhol failed to sell.
Alberto Mugrabi, whose family owns the largest private Warhol collection and is known to support his market at auction, said there were a lot of weak pieces by Warhol at auction this week.
"Of course we still support the Warhol market, but I can't buy every painting that comes up," he said.
Pointing to "Mao" across the room, Mugrabi said: "Look how amazing it looks. You feel like you are in the Tiananmen Square."
Before it's here, it's on the Bloomberg Terminal.
LEARN MORE