Italy's Bonds Gain as Draghi Reinforces Negative View of Economy
ECB president's comments stoke speculation of deposit-rate cut

German two-year yields reach record low of minus 0.372 percent
Italy's government bonds rose for a fourth day after European Central Bank President Mario Draghi said risks to the euro-zone economy are "clearly visible" and reiterated that officials will take another look at the monetary stimulus they're providing in December.
German two-year note yields dropped to a record as Draghi's comments to European lawmakers in Brussels reignited speculation the ECB is gearing up to cut its deposit rate at next month's policy meeting. The extra yield that Italian 10-year securities offer over similar-maturity German bunds narrowed to less than a percentage point.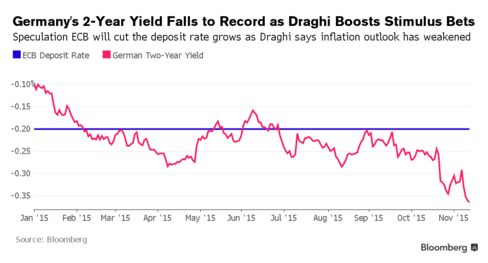 Another option for officials is to boost the size of their 1.1 trillion-euro ($1.2 trillion) bond-buying program or extend the plan. Draghi repeated a pledge to keep the program running beyond its September 2016 end date if needed to meet the bank's inflation targets and said the outlook for price growth has "somewhat weakened."
Draghi's comments are "reinforcing the dovish tone and keeping the expectation levels for the December ECB meeting high," said Owen Callan, a Dublin-based fixed-income strategist at Cantor Fitzgerald LP. On the deposit rate a "10 basis-points cut is the majority call, but there's definitely a risk of a bigger cut than that," he said.
Negative Rate
The ECB cut the deposit rate to below zero last year, effectively charging banks for keeping excess cash with it overnight, and the rate is now minus 0.2 percent.
Forward rates on the euro overnight index average, or Eonia, dated for ECB meetings show traders have almost fully priced in a 10 basis-point, or 0.1 percentage point, cut in December.
Italian 10-year bond yields fell three basis points to 1.60 percent as of 4:20 p.m. London time. The 2 percent security due in December 2025 rose 0.25, or 2.50 euros per 1,000-euro face amount, to 103.72. The yield on German two-year notes fell to as low as minus 0.372 percent.
A negative yield means investors buying the securities now will get back less upon maturity than they paid.
Tighter Spread
The Italian-German 10-year yield spread could narrow to about 90 basis points by year-end, Callan said, from just below 100 basis points Thursday.
Euro-region bonds have gained in the past month, outperforming their U.S. and U.K. peers, fueled by speculation the ECB will increase stimulus at its Dec. 3 policy meeting. Also next month, the Federal Reserve will contemplate whether to raise interest rates for the first time since 2006.
Should ECB officials "conclude that our medium-term price-stability objective is at risk, we would act by using all the instruments available within our mandate to ensure that an appropriate degree of monetary accommodation is maintained," Draghi told the European Parliament.
Before it's here, it's on the Bloomberg Terminal.
LEARN MORE