Eskom Seeks to Recoup $1.6 Billion South African Power Costs
Utility had earlier requested to recover 38 billion rand

Electricity prices have almost quadrupled since 2007
South Africa's power utility asked the energy regulator for permission to recover 22.8 billion rand ($1.6 billion) of costs incurred in the 2014 financial year.
Eskom Holdings SOC Ltd., which supplies about 95 percent of power to Africa's most-industrialized economy, submits accounts to the National Energy Regulator annually, enabling it to recover costs that weren't budgeted for when Nersa first set tariffs for the utility. Once the watchdog has assessed the expenses, it "will inform the adjustment of electricity tariffs," Eskom said in an e-mailed statement Thursday.
"Should the results of the assessment indicate that Eskom has to reimburse the customers, the price of electricity would have to decrease proportionally," the regulator said in a separate e-mailed statement. "Similarly, if the customers have to reimburse Eskom, the price would have to increase."
The regulator in June rejected a request by Eskom to raise prices by as much as 12 percent above an already-agreed 13 percent for the year to March 2016. The additional funds would have been used to buy power from independent producers and for diesel to fuel generators the utility uses to curb scheduled blackouts. The inflation rate was 4.6 percent in September.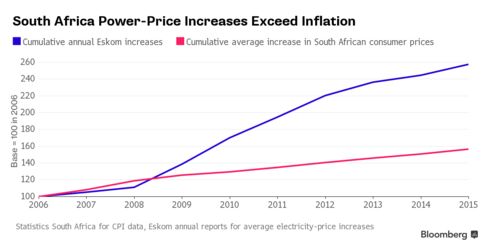 Electricity prices in South Africa have almost quadrupled since 2007, when the country first had power shortages. Scheduled supply cuts, known as load-shedding, took place almost once every two days on average in the first half of this year.
The application, if successful, may see electricity tariffs rise more than 20 percent from April 1, Jeffrey Schultz, an economist at BNP Paribas SA, said in an e-mailed note to clients.
With the "government's promise to rating agencies of 'deficit-neutral' financing for state-owned entities, our view is that there is little option but to grant the utility something close to what it has asked for," he wrote. "This means more pressure on consumers, higher inflation in the second half of 2016 and a Reserve Bank which will remain in a tough bind as it continues to try to balance tepid growth prospects with an ever more challenging inflation outlook."
The utility had made an application to recover as much as 38 billion rand for 2014, Chairman Ben Ngubane said in the company's annual report. A spokesperson for the utility declined to comment on the change in the request when contacted by phone. If approved, the outcome would have affected prices in the year starting April 1, 2016, Ngubane said in the report.
In October 2014, the regulator gave Eskom permission to raise tariffs to help it recover 7.8 billion rand of unbudgeted costs for the three years through March 2013. The company had applied to recover 18.4 billion rand.
Before it's here, it's on the Bloomberg Terminal.
LEARN MORE