Credit Suisse: Here Are the Two Biggest Threats to the Global Economy in 2016
A cut in China's investment spending and the return of U.S. core inflation could derail the global economy.
Credit Suisse has published its 2016 Global Outlook, in which economists and strategists offer their favorite trades and base-case view for economic activity around the world, as well as possible developments that could derail their prophesied path from being realized.
The title—"The Fed Awakens"—would seem to imply that the U.S. central bank looms large as a source of potential downside for the global economy. While chief economist James Sweeney believes the Federal Reserve will have hiked rates four times by the end of 2016, he doesn't see this tightening cycle as one of the two most noteworthy gray swans on the horizon. The unwelcome scenarios Credit Suisse sees as substantial sources of downside risk for the global economy are if Chinese investment spending goes comatose or U.S. core inflation revives.
Getting to a Goldilocks level of investment spending poses a challenge for Chinese policymakers that is sure to spill over into the global economy, Credit Suisse says. In the midst of a reorientation of economic growth toward domestic demand, Beijing will be sure not to fully switch off the credit spigots that have driven investment spending. On the other hand, the marginal efficacy of these expenditures has waned, with investment threatening to exacerbate existing imbalances and raising the specter of a Chinese financial crisis.
Because of the immense scale of Chinese capital formation, Sweeney admits that all the assumptions embedded in Credit Suisse's base case would have to be reevaluated in the event that investment "were to contract or come close to contracting."
The economist notes that Chinese capital spending is bigger than U.S. consumer spending on goods: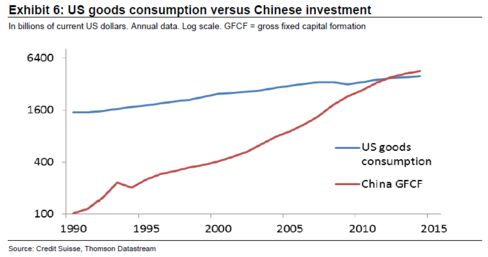 This does not mean, however, that Chinese investment has supplanted the U.S. consumer as the engine of the global economy.
The necessary qualifier here is that in the third quarter, real personal consumption expenditures on services in the U.S. were nearly double that of spending on goods.
But if Chinese investment flatlined or shrank, Credit Suisse expects that an environment of widespread risk aversion would be at hand, conceivably fueling a global GDP recession as commodity-exporting countries endured another year of pain.
"The risk scenario of contracting investment is a low-probability, high-impact event on which investors are justified to focus," explains Sweeney. "However, we think that a rebound in Chinese growth early next year, amid stimulus and a global recovery, is far more likely."
The less-discussed but more probable source of downside for the global economy stems from central bankers in advanced economies finally getting a bigger dose of what they've been yearning for—inflation.
"The other risk scenario that concerns us is a drift higher in developed market core inflation, particularly in the U.S.," Sweeney's team wrote.
The market clearly isn't prepared for or pricing in much inflation, with five-year forward breakevens near their lowest level since the financial crisis: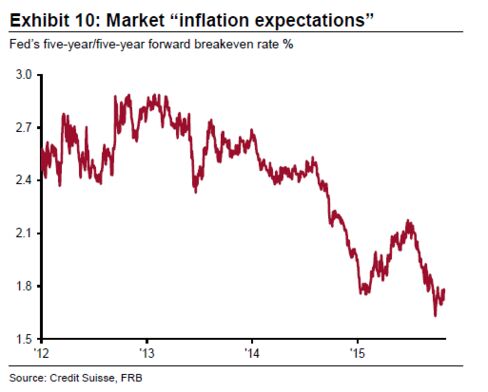 Sweeney offered four reasons why the likelihood of this seemingly low-probability event happening wouldn't be too unusual.
For the past two years, the U.S. has enjoyed above-potential economic growth, which should foster rising inflation once slack is fully eliminated.
The unemployment rate, at 5 percent, is nearly at a level that members of the Federal Open Market Committee believe is consistent with full employment, at which point economists would expect to see more upward pressure on wages.
While wage growth may be not running too hot, U.S. credit growth has been picking up steam. Finally, the lofty greenback and low oil, two large temporary factors weighing on inflation, are slated to diminish in 2016. This, according to Credit Suisse, will provide a lift to headline inflation that could feed through to the core rate.
An upside surprise for inflation would drag on economic activity as the market priced in a faster pace of interest rate hikes by the Fed—and to a higher terminal rate than currently anticipated—sparking a swift rise in yields, according to Credit Suisse.
"Market volatility could then increase economic risks, possibly by raising risk aversion and lowering expenditure on interest rate-sensitive items, such as durable consumer goods, which in the U.S. were surprisingly strong in 2015," wrote Sweeney and his team.
The scariest part of Credit Suisse's potential downside scenarios?
There's nothing that says both of these risks can't materialize in concert.
"It is possible to imagine very weak Chinese growth and rising core inflation in developed markets at the same time," Sweeney wrote. "That unlikely scenario could be extremely disruptive for financial markets."
Before it's here, it's on the Bloomberg Terminal.
LEARN MORE