Citic Weathers Probes of Executives to Join Chinese Broker Rally
Citic Securities' shares climb even amid investigations

China's biggest brokerage up 44% from September's low
Citic Securities Co. is weathering probes into its senior executives, joining a rally by Chinese securities firms as investors put more weight on a stabilizing stock market and a looming resumption in initial public offerings.
The firm's shares have climbed 24 percent in Hong Kong since it said on Sept. 15 that its President Cheng Boming was under investigation, accused of alleged insider trading. That's close to the 25 percent increase in the Bloomberg Intelligence China H-Share Institutional Brokerage index, which tracks seven Chinese brokerages listed in Hong Kong. The benchmark Hang Seng Index rose 4.2 percent.
The revival for China's biggest broker also shows that investors regard managers at Chinese state-owned entities as largely interchangeable, according to Chen Xingyu, a Shanghai-based analyst at Phillip Securities Research.
"Management changes at Citic are more or less decided by the government, so there's little impact on the company's business," Chen said.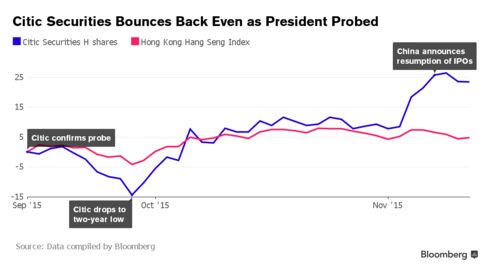 Citic Securities shares have climbed 44 percent from a more than two-year low reached on Sept. 29 after one of its major shareholders, Cinda Sinorock Global Portfolio Limited Partnership II, pared back its stake in the previous week. At the same time, the stock remains almost 50 percent below its peak this year.
Summer Rout
Besides Cheng, six other Citic Securities executives are under investigation, according to state media reports, as the government tries to assign blame and clean up the market after a summer stock rout. Also being probed are Xu Xiang, one of the nation's best-known hedge fund bosses, and Zhang Yujun, one of three assistant chairmen at the China Securities Regulatory Commission.
Gains in Chinese stocks, with the Shanghai Composite Index rebounding 25 percent after a 43 percent decline from its peak in June, and increases in margin finance after earlier contractions indicate a better environment for brokerages. In addition, China's securities regulator plans to lift a freeze on initial public offerings by the end of the year. Investment bank China International Capital Corp. this week had the best debut of any major first-time share sale in Hong Kong since April.
"Overseas investors usually see Citic Securities as the best proxy to play Chinese securities," said Leon Qi, an analyst at Daiwa Securities Group Inc. in Hong Kong who holds an "outperform" rating on the stock. Gains by Citic Securities reflect "sentiment turning on the whole sector," said Qi, whose calls on Citic in the past year delivered the best returns among peers tracked by Bloomberg.
While earnings declined in the third quarter from the previous quarter, CICC analysts Du Lijuan and Mao Junhua this month predicted full-year profit growth of 85 to 150 percent for the 10 listed securities firms that they cover.
Since news first broke on Aug. 25 that Citic Securities executives were under investigation, the stock has underperformed the wider brokerage index by 23 percentage points. The shares are still up 15 percent since then.
Before it's here, it's on the Bloomberg Terminal.
LEARN MORE