Taiwan has much fewer free-trade deals than rivals like Korea

Presidential candidates eye trade pacts that might lift growth
The historic summit in Singapore last weekend between Taiwan President Ma Ying-jeou and Chinese counterpart Xi Jinping, the first such meeting in seven decades, was a remarkable turning point in cross-strait relations.
Yet none of the international media attention and fanfare will change this reality: China has tremendous economic leverage over Taiwan and continues to isolate the island diplomatically, making it difficult for it to enter regional trade agreements that would give the Taiwanese economy a much-needed boost in growth.
Taiwanese exports have contracted sharply this year, worse than that of North Asian peers like South Korea and China whose economies have also been hit by weaker global demand. Ma told Xi that he hopes both sides can join trade pacts such as the Regional Comprehensive Economic Partnership (RCEP), a proposed agreement among 16 nations, most of which are in Southeast Asia, and the U.S.-led Trans-Pacific Partnership (TPP), which would cover 12 Pacific Rim countries.
Economic isolation has put Taiwanese makers of products such as display panels and car parts at a disadvantage in global markets just as Chinese rivals are becoming more potent rivals. While the long handshake between Ma and Xi marked a breakthrough, China isn't expected to lift its opposition to Taiwanese participation in regional trade deals. Ma is a lame duck, and polls ahead of January's presidential election show Tsai Ing-wen -- the candidate for the pro-independence Democratic Progressive Party -- as the frontrunner over Kuomintang (KMT) rival Eric Chu.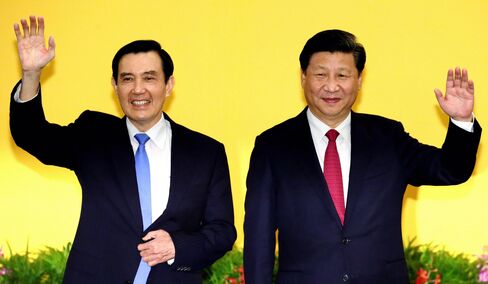 "How Beijing interprets Taiwan's desire to do free-trade agreements with other economies will be governed by how they view the political motivations of the Taiwan leaders," said Richard Bush, director of the Center for East Asia Policy Studies at the Brookings Institution. "If they view a DPP leadership as having a political agenda behind their economic policies they're more likely to exert pressure on third parties. The irony here is even though Beijing had confidence in Ma Ying-Jeou's intentions, they still weren't very generous."
In the meantime, China's economic sway over Taiwan continues to intensify. China became Taiwan's biggest export market in 2003, when it surpassed the U.S. for the first time, according to trade figures compiled by Societe Generale. Since then, China's share of Taiwan's export market has doubled to 40 percent.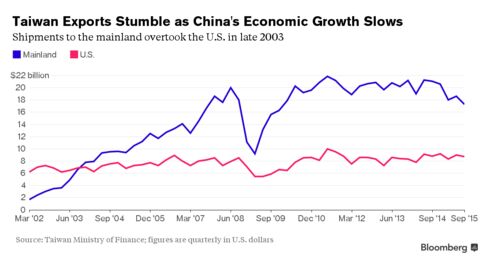 Xi didn't signal at the recent Singapore gathering any change in the Chinese strategy to isolate Taiwan while increasing its economic clout over the island economy. Xi's remarks were "hardly definitive," said Brookings analyst Bush.
The Chinese president's speech contained little specifics, other than emphasizing that both sides are from a family "whose blood is thicker than water." Zhang Zhijun, head of China's Taiwan Affairs Office, said that Xi had told Ma China understood Taiwan's desire to have a bigger international presence.
Taiwan's gross domestic product last quarter shrank by 1.01 percent, the first contraction since 2009, dragged down by a slump in exports, which account for about 70 percent of the economy. The island's tech companies aren't known for their proprietary technologies and generally serve as suppliers of electronic components such as chips for Apple Inc.'s iPhones. That makes them especially vulnerable to global competitors.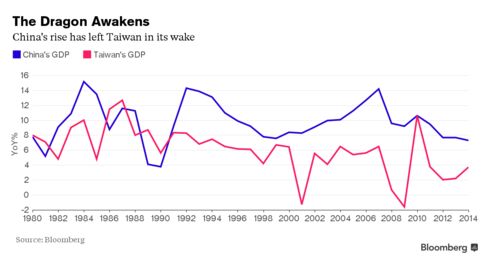 Taiwan's lack of trade deals has given its rivals an advantage on tariffs and market access and prompted more local firms to set up factories abroad, accelerating the hollowing out of local industries, according to Liang Kuo-yuan, Chairman of Yuanta-Polaris Research Institute in Taipei.
The only major economies with which Taiwan has trade deals are Singapore and New Zealand. Both pacts were signed in 2013. The island has a agreement on economic cooperation with China, under which a goods deal is being negotiated and a signed services pact awaits legislative approval.
In contrast, its key exports rival South Korea has agreements with India, the European Union and the U.S., as well as China.
Last month, China urged the European Union to refrain from official contact with Taiwan after the European Commission said it will consider starting talks on investment with the island.
A more likely trade deal for Taiwan is the TPP, which is seen as an effort by the U.S. to carve out a trade bloc without China. Both DPP's Tsai and KMT's Chu have pledged to join. To boost its chances, Taiwan should restore its credibility with trade partners by implementing past accords such as the services deal with China and build a political consensus on the need for such integration, according to the Brookings report.
Inside Taiwan, public support for trade agreements is mixed. A 24-day occupation of the legislature last year, known as the Sunflower Movement, to protest a proposed trade deal with China showed wariness not only toward the historical foe but also trade liberalization in general. With home prices almost doubling and tepid real wages growth since Ma took office in 2008, Taiwanese aren't convinced closer economic ties with China have done most people much good.
"There are obstacles to trade deals but it also depends on your political maneuvering: how you interact with the mainland and how you communicate with the public," said Kamhon Kan, director at the Institute of Economics at Academia Sinica in Taipei. "The government needs to say free-trade agreements won't cause wealth inequality to worsen, and boosting economic growth is good for everyone."
Both Tsai and Chu support joining TPP and RCEP. The DPP would have a better chance of achieving that with greater transparency, according to Jun-ji Shih, Tsai's economic adviser and the former head of the Financial Supervisory Commission. "China won't let cross-strait relations be blank" under a DPP government, and Tsai will also seek a "seamless transition" in the preparation for TPP talks, Shih added.
KMT spokesman Yang Wei-Chung said Chu's advantage in negotiating these deals lies in the party's long-term relationship of trust with the U.S., and stable cross-strait relations is a prerequisite for any breakthrough in Taiwan's diplomatic relations.
Which ever side prevails, the new government should emphasize improving the competitiveness of Taiwanese firms and building multilateral relations, according Ma Tieying, an economist at DBS Group Holdings Ltd. in Singapore. "If Taiwan continues to fall behind its competitors in liberalizing trade, it runs the risk of being marginalized," Ma said.
Before it's here, it's on the Bloomberg Terminal.
LEARN MORE