Cessna Readies a Long-Range Luxury Jet You Can Stand Up In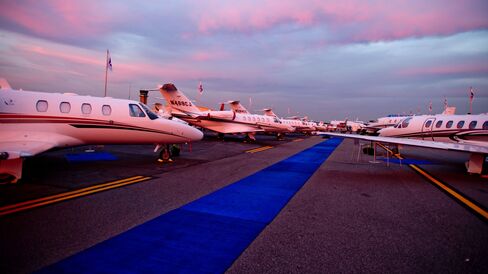 Transatlantic aircraft revived after project scrapped in 2009

Unveiling may be next week at industry trade show in Las Vegas
Textron Inc.'s Cessna probably will introduce its largest-ever business jet next week to meet customers' demand for roomier, more-comfortable cabins and longer range, according to analysts and industry consultants.
The new plane is expected to fly as far as 4,000 nautical miles (7,400 kilometers), giving it the ability to make international trips, and resurrects a concept that was abandoned during the 2009 recession, said Rolland Vincent, a former executive at Cessna and Bombardier Inc. who is now an aerospace consultant.
"That's a transatlantic airplane," Vincent said. "The way they're going to differentiate the plane is with speed" and a bigger fuselage.
Details about Cessna's plans are starting to trickle out within the industry ahead of the National Business Aviation Association's annual conference in Las Vegas. Textron Chief Executive Officer Scott Donnelly hinted during an Oct. 27 conference call about a revamping of the Cessna lineup, saying specifics would come at the NBAA show.
Longitude Update
Cessna also may unveil changes to the Longitude, which has been the biggest plane on the company's books since its 2012 introduction but hasn't yet been built. Vincent said the range would be cut 15 percent to 3,400 nautical miles and the engines switched to Honeywell International Inc. models from Safran SA. Textron, Honeywell and Safran spokesmen declined to comment.
A revised Longitude probably will remain a $26 million aircraft, while the new plane may be priced at $30 million to $35 million, said Cai Von Rumohr, a Cowen & Co. analyst. He said the new Cessna would be a so-called super-midsize jet -- just big enough to compete in the larger-cabin niche dominated by General Dynamics Corp.'s Gulfstream unit, Bombardier and Dassault Aviation SA.
"For Cessna it makes sense to go up into that niche and try to take some of that market," Von Rumohr said.
More Space
The new plane's ceiling will be taller than the 6-foot (1.8-meter) cabin in Cessna's Latitude, according to Vincent, Von Rumohr and Brian Foley, a former Dassault executive who is now an aerospace consultant. Being able to stand upright is a crucial sales point for buyers shelling out millions for the convenience and luxury of private aircraft.
Large and midsize models have led a rebound in the business-jet market since the global financial crisis. Cessna already has revamped its smaller jet lineup to fight a sales decline caused by the economic slump and the entry of Brazil's Embraer SA into corporate aviation a decade ago.
Cessna's new jet would enable customers to "move up the food chain to a larger plane" and take advantage of financial troubles at Bombardier, which got a bailout from Quebec's government because of delays to the C Series jetliner program, Foley said.
"It will give them something to get up in Bombardier's face with," Foley said.
Cessna's earlier attempt to build a larger-cabin jet was the Columbus, which was canceled in April 2009 after an unveiling just a year earlier. Textron planned a $780 million investment to develop the plane, which was to have a 4,000 nautical mile range and list for $27 million.
Donnelly's Impact
New models have been a hallmark of Donnelly's tenure since he came to Textron in 2009 from General Electric Co.
He bought Hawker Beechcraft for its propeller-plane business and shut down its jet operations. In the last three years, Cessna has introduced eight refreshed or new products including the Citation CJ3+ small jet and the midsize Latitude, which seats as many as nine people.
"Scott has been very focused on driving new product in every one of the businesses," said Sam Pearlstein, an analyst with Wells Fargo & Co. Inc. "That's what you really need to stimulate demand in the business jet market."
Before it's here, it's on the Bloomberg Terminal.
LEARN MORE