Jeffrey Gundlach is a big fan of India's stock market. So are investors in exchange-traded funds.
"Buy India … and don't look at your statement for 25 years," DoubleLine Capital's chief executive officer told an audience of ETF investors last week at ETF.com's annual Inside Fixed Income conference, citing the country's demographics. The World Bank this year predicted India would overtake China as the world's fastest-growing major economy in the next two years, with gross domestic product growth of 7.1 percent by 2017.
Many investors at the ETF event may have patted themselves on the back, since $4.7 billion has poured into India ETFs in the past two years. That's helped to almost triple assets over that period, to $7.2 billion. While India ETFs rank 10th in single-country ETF assets, they rank second in inflows. Only flows into Japan ETFs top them, at $14.6 billion.
Investors seem to be settled in for the long haul, as Gundlach advises. That can be measured by looking at asset turnover, or the percentage of the ETF's assets that trade each day. A lower number indicates more buy-and-hold investors. The asset turnover of India ETFs is 1.8 percent a day, lower than that of many other country ETFs. Russia ETFs turn over at 4.1 percent a day, China ETFs at 6.2 percent.
The really big flows into India ETFs started in March of last year, when it began to look like the pro-business Narendra Modi would be elected prime minister. He won in May. The election helped large-cap India ETFs generate two-year returns of 20 percent. That outpaced returns for other big emerging-market countries such as Brazil, Russia, and China by more than 15 percentage points.
In general, single-country ETFs tend to perform well—and attract the most assets—following an election the financial markets view favorably. Well more than half of the flows into single-country ETFs in the past five years can be linked to such leadership changes.
The table below shows where India ETF investors are putting their money: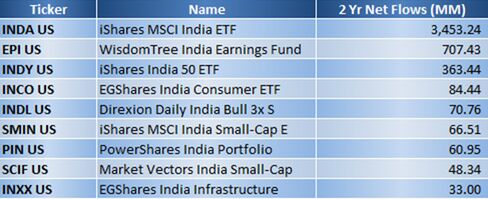 The iShares MSCI India ETF (INDA) has been the most popular destination. It holds about 70 local stocks in a variety of sectors. INDA has attracted assets at least partly because it's the cheapest option, at 0.67 percent in annual fees. While that may seem pricey to an ETF investor, it's half the cost of the average India-focused mutual fund. INDA is also popular because it tracks an MSCI index, which many advisers and institutions look for in international investing.
A distant second in inflows is the WisdomTree India Earnings ETF (EPI). EPI is considered a "smart-beta" ETF because it uses something other than market capitalization to weight the securities it tracks, screening and weighting stocks by earnings. The strategy has paid off during the past two years, with EPI up 23 percent, vs. INDA's 19 percent. Year to date, however, EPI is underperforming INDA by 2.5 percentage points. It charges 0.83 percent in annual fees.
The top performer among all the India ETFs over the past two years is the iShares MSCI India Small-Cap ETF (SMIN). Its focus on small caps means it tends to be more volatile than its peers. It's up 69.6 percent (that's the bright green line in the chart):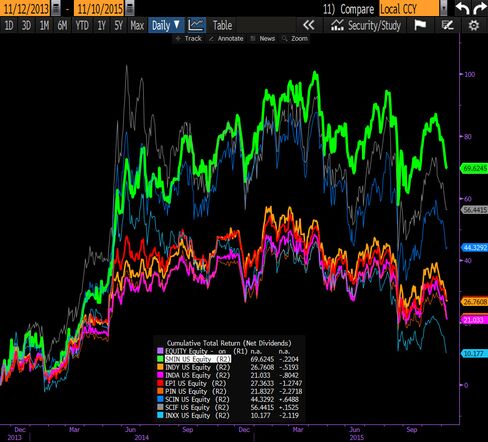 SMIN aims to capture demand inside India—small caps are heavily dependent on the local economy, while larger multinationals are more reliant on exports. SMIN has taken in $66 million in flows and charges 0.74 percent in annual fees.
If you want exposure to India but not quite so much, there are many broad emerging-markets ETFs. For example, India makes up an 8 percent weighting in the iShares Core MSCI Emerging Markets ETF (IEMG) and a 13 percent weighting in the Vanguard FTSE Emerging Markets ETF (VWO).
Eric Balchunas is an exchange-traded-fund analyst at Bloomberg. This piece was edited by Bloomberg News.
Before it's here, it's on the Bloomberg Terminal.
LEARN MORE