Advanced, True to Pay $2.25 Billion for Thai 4G Mobile Licenses
Stocks tumble as aggressive bid seen raising financial risks

Regulator expects 20 million 4G subscribers within first year
Advanced Info Service Pcl, Thailand's biggest mobile-phone operator, and True Corp. Pcl won licenses to provide fourth-generation wireless services after bidding a total $2.25 billion in an auction that stretched to 33 hours. The stocks slumped on concern they may have paid too much.
Advanced Info, controlled by Singapore's Temasek Holdings Pte, topped the bidding with 41 billion baht ($1.14 billion) and True's bid was valued at 39.8 billion baht, the regulator said. They beat out Total Access Communication Pcl and Jasmine International Pcl in an auction that began on Wednesday morning and finished about 7 p.m. Thursday after 86 bidding rounds.
Advanced Info had the most to gain from winning one of the 1,800MHz licenses because Total Access and True have already started offering services at speeds approaching 4G using their existing spectrum. Customers will start moving to the new faster networks in February, and the number of 4G subscribers will reach 20 million by the end of next year, the National Broadcasting and Telecommunications Commission said.
"Most investors are extremely disappointed with the auction as the license costs are far beyond their expectations," Ratch Sodsatit, Bangkok-based managing director of Asset Plus Fund Management Co., which oversees about $1 billion of assets, said before the auction ended. The winners "will face a tough challenge in managing these huge license costs," he said.
Shares Slump
Advanced Info slid 6.6 percent at the close in Bangkok, its biggest loss since September 2010. Shares of True and Total Accessfell at least 8 percent and Jasmine was unchanged. The benchmark SET Index dropped 0.4 percent. While the winners were named after the market close, the shares tumbled as the regulator provided updates on the value of bids.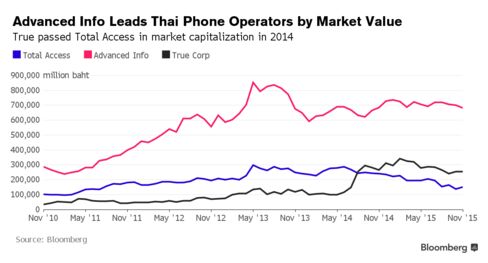 The licenses will give the winners an edge just as mobile data usage surges in Thailand, which has 68 million people and had about 86 million mobile subscribers as of September. The auction also has revenue implications for the military government, with Prime Minister Prayuth Chan-Ocha last week warning companies and state agencies that they risked legal action if they tried to disrupt the process.
Thai companies began offering 3G services in mid-2013 after eight years of delays caused by legal battles and regulatory wrangling. In 2012, the Thai telecom regulator raised 41.6 billion baht in an auction for licenses of third-generation cellular services. Advanced Info, Total Access and True won those licenses. The NBTC will auction a further two licenses for 900MHz spectrum on December 15.
The 4G auctions come after a lackluster quarter of earnings reports for Thai mobile phone operators. Advanced Info's net income fell 3.8 percent from a year earlier, the company said on Tuesday. Total Access's profit in the quarter slumped 52 percent. True hasn't announced its third-quarter earnings.
Before it's here, it's on the Bloomberg Terminal.
LEARN MORE