Youth Unemployment in Korea Is Pushing Some Job Seekers Abroad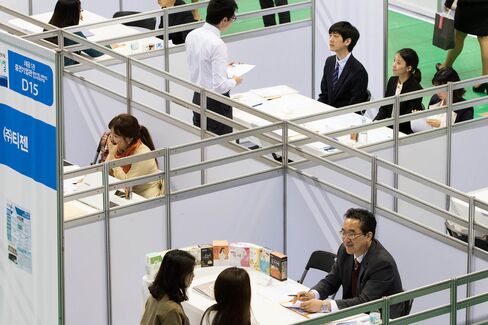 Government website connects Koreans to employers overseas

Overall jobless rate of 3.4% is the lowest since January
Under the hood of South Korea's jobs report Wednesday is a youth unemployment rate so stubbornly high that the government is helping young job seekers look overseas for work.
While the overall unemployment rate in Korea dropped to 3.4 percent in October, the figure for job seekers ages 15 to 29 was 8.1 percent, data from the national statistics office show.
The youth jobless rate reached 10.1 percent in June, the highest in 15 years, and has averaged almost 8 percent over the past decade.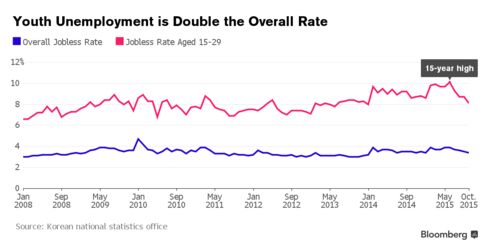 The Takeaway: While young people aren't fleeing Korea in droves -- about 14,000 have left under the "K-Move" program over the past five years -- this effort underscores Korea's challenge in finding opportunities for young workers as the economy matures and the growth rate slows. The Eurozone is also grappling with the issue, with youth unemployment there exceeding 20 percent.
"Policy makers are trying, but there won't be much improvement in the job market for young adults unless exporters thrive again," said Kim Hyeon Wook, an economist at the SK Research Institute in Seoul. "They're fighting to find good jobs, but these have already been taken by their fathers."
The unemployment rate for people ages 15 to 29 is about 3.5 times higher than for those ages 40 and above.
Young Koreans and employers from 46 countries can connect via the K-Move website, which has postings for jobs in areas including information technology, office administration and construction.
About a quarter of placements have been to China. Australia is the second most-popular destination, accounting for 2,931 jobs, followed by Canada with 2,326 jobs.
The number of young Koreans in the program dropped to 1,679 last year, from 4,057 in 2011, after the President Park Geun Hye's administration refined it to avoid menial jobs.
The South Korean economy is forecast to expand at a 2.5 percent rate this year, compared with an average annualized rate of 7.1 percent in the 1990s.


"We're not at the stage where we have to worry about losing our young talent yet," said Suh Dae Il, an economist at KDB Daewoo Securities in Seoul. "But more students may be forced to look abroad because their job prospects at home aren't that good."
Before it's here, it's on the Bloomberg Terminal.
LEARN MORE