Turnbull Seeks to Heal Indonesia Rift in First Overseas Trip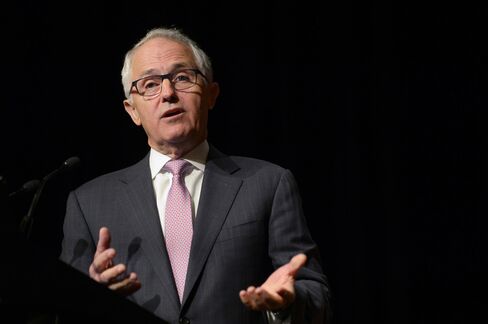 Ties suffered from exectutions, turning back asylum seekers

Premier to meet Merkel before attending G-20, APEC summits
Australian Prime Minister Malcolm Turnbull held "friendly" talks with Indonesia, seeking to reset ties with his most important Southeast Asian neighbor at the start of his first overseas tour since wresting control of the government.
Turnbull described the meeting with President Joko Widodo in Jakarta on Thursday as an "exciting discussion," while his counterpart said the talks were "productive, friendly" on topics such as cattle breeding and combating terrorism. After Indonesia, Turnbull continues onto the Group of 20 summit in Turkey and then the Asia-Pacific Economic Cooperation forum in the Philippines.
The visit to Jakarta reflects efforts to repair a relationship strained under previous Prime Minister Tony Abbott. Two months after seizing the leadership, Turnbull is aiming to replicate on the international stage his domestic popularity, which has pushed his Liberal-National coalition government to an election-winning lead in opinion polls.
"The change to Turnbull as leader is nice timing for the Indonesia-Australia relationship, as it will allow it to reset after it fell to a precarious position in recent years," said Greg Barton, chair in Global Islamic Politics at Melbourne's Deakin University. "There's a feeling that the optimism within Australia, that the new leader is much more reasonable to deal with than Abbott, should also apply in our relationship with Indonesia."
Phone Tapped
Widodo, known as Jokowi, invited Australia to invest in cattle breeding and the digital economy, and talked about potential cooperation on fighting the forest fires that have spread pollution across the region. While there were no policy measures or deals announced, Turnbull struck an upbeat tone, similar to Abbott on his first official visit to Jakarta, saying Australia would welcome Indonesia taking part in the Trans-Pacific Partnership trade pact.
Abbott's issues with Indonesia, which had two-way trade with Australia worth A$15.7 billion ($11.1 billion) last year, were not all of his own making. His vow to focus the nation's foreign policy on "more Jakarta, less Geneva" were derailed shortly after coming to power in 2013 when media reports revealed that Australia's intelligence services had tapped the phone of then-president Susilo Bambang Yudhoyono.
Asylum Seekers
More turbulence occurred when Indonesia protested Australia's policy of turning back boats laden with asylum seekers. The April executions of two Australian citizens caught smuggling drugs in Bali led to Australia recalling its ambassador. Abbott raised the ire of Indonesia's media when he urged Jokowi to pardon the pair to "reciprocate" for Australia's aid to its neighbor in the wake of the 2004 tsunami.
Conflicts often emerge in the relationship because "both countries are not informed enough about each other's habits and predisposition." said Dinna Wisnu, director of the Paramadina Graduate School of Diplomacy in Jakarta. "I see the visit of Prime Minister Turnbull as a good neighborly gesture, an assurance that Indonesia is important enough to visit" shortly after becoming leader, she said.
Business Ties
While the repair work had begun earlier this year on Abbott's watch with the return of the ambassador, Indonesia's government welcomed Turnbull's rise to the top job. His trip is being followed by a visit of more than 200 Australian business people as part of the nation's largest-ever business delegation.
"Sometimes we are going up very highly, and then the next day, we are going down," Indonesia's ambassador to Australia, Nadjib Riphat Kesoema, said Monday in an Australian Broadcasting Corp. television interview. "Now we are going to the very good relations, we are going back to the path that we have to go to."
After a brief visit to New Zealand last month, Turnbull is using the trip to Jakarta as a launch pad for his first major tour overseas as prime minister. He'll visit Berlin for talks with Chancellor Angela Merkel and then participate in a series of leaders' summits -- the G-20 in Antalya, Turkey; APEC in Manila; and the East Asia Summit in Kuala Lumpur.
Political Agenda
Turnbull, an urbane former investment banker, has tried to reset the political agenda in Australia, with voters so far warming to his more positive message regarding economic and global challenges before elections due late next year. Now, he's seeking acceptance on the international stage after the combative and socially-conservative Abbott drew criticism for his tough stance on asylum seekers and his policies on global warming. Under Abbott, Australia dismantled a price on carbon emissions.
Earlier this month, Turnbull scrapped a system of bestowing knighthoods and other titles on prominent Australians that Abbott, an avowed monarchist, had reintroduced.
"There's every reason to expect he'll do well on his first overseas trip and impress his peers," Barton said. "On the international stage he seems a man of the times, socially progressive and forward-looking, while Abbott seemed to be a throwback to an earlier era."
Before it's here, it's on the Bloomberg Terminal.
LEARN MORE