One Less Hurdle for Fed Hike: China Backs From Danger Zone
China's stocks are back in a bull market, yuan has stabilized

Growth slowdown may be reaching trough for now; spending rises
China may be slipping down Janet Yellen's worry list.
When the Federal Reserve in September held off from its first interest-rate increase since 2006, the U.S. central-bank head cited growing concerns about China's market turmoil among the reasons. "A lot of our focus has been on risks around China," she said in a press conference after the decision.
At the time, China's leaders were struggling to contain the fallout from a $5 trillion stock market rout and an abrupt decision to devalue the yuan that sparked a flood of capital to leave the country. The turmoil rattled global investors and emerging markets amid concern China would spark another step down for world growth.
That was then.
Now, while Chinese economic indicators are mixed, its markets have calmed. The Shanghai stock market has gone from bear to bull. Capital-flow worries have eased, and the yuan has advanced more than 1 percent from a four-year low in August.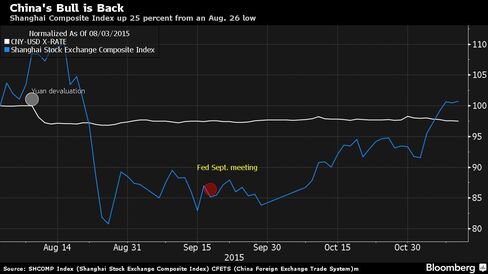 The exchange-rate gains have helped soothe worries that China was embarking on a competitive devaluation to boost its flagging exports, as part of a broader effort to meet a growth target of about 7 percent for the year.
Risks Receding
"The risks stemming from China's outlook as perceived by Yellen and the Fed have definitely gone down in the last two months," said Louis Kuijs, head of Asia economics at Oxford Economics in Hong Kong, who used to work at the World Bank.
That offers Yellen and her colleagues some cheer as they prepare for the year's final meeting, Dec. 15-16 -- when a rate rise is potentially a "live possibility," the Fed chair has said. Interest-rate futures indicate a 66 percent probability of a move next month.
It's not just China's markets that are stabilizing. On the ground, consumers are defying the slowdown in the industrial part of the economy. Data Wednesday showed retail sales in October grew at their fastest pace this year. Alibaba Group Holding Ltd.'s annual Singles' Day promotion, a shopping-campaign twist on Valentine's Day, exceeded the 57.1 billion yuan ($9 billion) 2014 level before midday.
Great Rebalancing
Those gains on the consumption side are crucial as the government looks to ease off a reliance on debt-funded investment and heavy industry.
"China is in the midst of an important transition to a domestic-consumption and services-driven economy, but it will not keel over as some pundits suggest." said Andrew Sheng, a distinguished fellow at the Asia Global Institute in Hong Kong, who previously worked at the Hong Kong Monetary Authority and Malaysia's central bank.
To be sure, the worries on China haven't vanished. While economic growth came in at 6.9 percent in the third quarter, the underlying indicators suggest a softer picture. Data on Wednesday showed that industrial output matched the weakest gain since the global credit crisis and fixed-asset investment for the year so far rose at the slowest pace since 2000.
U.S. Ties
Still, for now at least the softness may not be enough to worry the Fed chair, given the changed tone in markets. While China matters to the U.S. from an economic standpoint -- the nation is poised to surpass Canada as its largest trading partner -- exports to China only make up 1 percent of U.S. annual GDP.
And Chinese policy makers are signaling their intent to ensure that the world's second-biggest economy continues to expand at a relatively fast pace. President Xi Jinping on Nov. 3 said average annual growth should be no less than 6.5 percent in the next five years. While ambitious in the view of some economists, the remarks underscored the leadership's intentions.
For the world economy, that means worries about a near-term hard landing in China may be excessive, said Leon Berkelmans, a director at the Lowy Institute for International Policy in Sydney and a former economist at the Fed and Reserve Bank of Australia.
"Even if China is extremely sick right now, the lack of spillovers could be a positive story," he said.
Before it's here, it's on the Bloomberg Terminal.
LEARN MORE