How Much Will San Diego, St. Louis, Oakland Pay to Keep NFL?
City officials ask NFL owners to block a team's move to L.A.

Missouri legislators threaten to undercut governor's plan
In the 21 years Los Angeles has been without an NFL franchise, plenty of cities have gone into debt to keep their teams from relocating to the second-biggest American media market. Today, delegations from St. Louis, San Diego, and Oakland will make their case to the NFL that they should be allowed to do the same.
This is as close as Los Angeles has come to getting a team back, as the owners of three teams have stated their intentions to move. The Chargers and the Raiders have proposed a $1.7 billion stadium in the Los Angeles suburb of Carson, which they would share, and Wednesday announced that Robert Iger, CEO of Walt Disney Co., would lead the joint venture. Rams owner Stan Kroenke, who is worth $5.6 billion, in January put forward plans to build an 80,000-seat stadium on land he owns in Inglewood, California.
Whether Los Angeles gets one or two new teams, or none at all, is up to the rest of the NFL owners, who could vote on relocation as soon as January. In general, the NFL prefers teams to stay put, as long as the host cities can craft a generous-enough plan for a new stadium.
Missouri: $388 Million
At Missouri Governor Jay Nixon's request, a statewide task force created a plan for a $1 billion stadium and the redevelopment of 88 acres of blighted property along the Mississippi River. To finance the project, Missouri would issue $135 million in state bonds, St. Louis would issue $66 million in city bonds, and the Rams would get $187 million in tax credits and other incentives, according to state documents.
With $388 million in public funding, the Missouri plan is the most generous of all the cities trying to keep a team, but a group of state legislators is demanding that Nixon take his proposal to the voters, or to the legislature, or else.
"We're not going to pay on those bonds," said state Senator Rob Schaaf, Republican from St. Joseph, in a phone interview. "They're going to have to find buyers who are just so gullible to believe we won't play the game of chicken with them."
San Diego: $350 Million
The city and county of San Diego have offered $350 million toward a new $1.1 billion stadium near Qualcomm Stadium, where the Chargers have played since 1967. Both would finance their contributions -- $200 million from the city, $150 million from the county -- with municipal bonds. Standard & Poor's rates San Diego AA, its third-highest rank. The city still owes $52 million for the team's current home.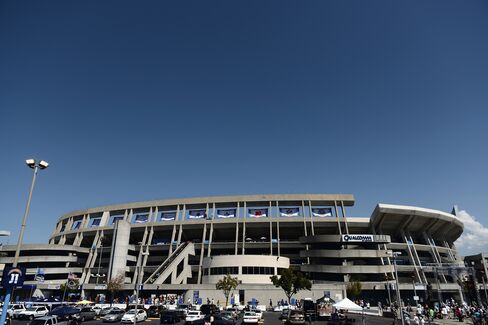 "Our best chance to keep the Chargers from moving to L.A. is to show San Diego's proposal is real and ready to move forward in 2016," San Diego Mayor Kevin Faulconer said in an e-mail. "We have a fair and common-sense plan and can break ground on a new stadium as soon as 2017 – if the Chargers work with us in good faith."
Chargers spokesman Mark Fabiani has said the team will file paperwork with the NFL to relocate to Los Angeles. The Chargers broke off negotiations with San Diego in June after contending that the city had run out of time to conduct a legal environmental review for a new stadium.
Oakland: $0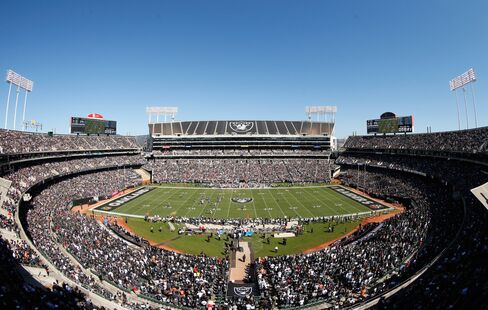 In Oakland, Mayor Libby Schaaf isn't proposing public subsidies to build a replacement for the Raiders' O.co Stadium. Taxpayers in the Oakland area still owe $99 million on the coliseum the Raiders share with the Major Baseball League's Athletics. Through a spokeswoman, Schaaf (no relation to the Missouri state senator) said the city would pay for infrastructure improvements that would serve a new stadium, but she plans to make a case to team owners that Oakland is still the best place for the team.
"Everything from Oakland's growing economic momentum and urban vitality to the team's die-hard regional fan base make it clear that there is no better time for a major league team to be located in, or associated with Oakland," Schaaf said in a Nov. 3 statement.
And the winner is ...
The NFL owners will convene in December to get updates from the various committees focused on L.A. None of the proposals are obvious winners. Sports economist Victor Matheson of College of the Holy Cross said teams outside of major media markets generally want subsidies of up to $500 million, a threshold all the cities in question fail to meet by more than $100 million.
"No one is really wild about coming up with $400 million to $500 million to keep a stadium," said Matheson. "That's proving to be very difficult."
If Los Angeles does finally get a team, NFL owners may lose their strongest leverage.
"Having Los Angeles in play has brought the NFL hundreds of millions of dollars in stadium subsidies," said Matheson. "If they finally get a team, they will no longer have that bargaining chip."
Before it's here, it's on the Bloomberg Terminal.
LEARN MORE