Bank Hedges Hit Record Low
Chance of Fed move next month jumps to 66% as economy improves

Higher lending rates offer chance for banks to boost earnings
Investors in U.S. financial stocks are putting their faith in the Fed like never before as confidence grows that the day is drawing nearer when banks will benefit from higher interest rates.
Short interest in an exchange-traded fund tracking financial stocks in the Standard & Poor's 500 Index is the lowest in data going back to 2006, according to data compiled by Bloomberg and Markit Ltd. Traders are protecting less than ever against declines in financial firms as the Federal Reserve is seen as twice as likely to lift interest rates at its December meeting compared with just two months ago.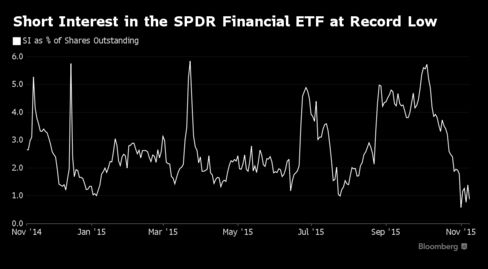 The positioning has been spurred by better-than-expected employment data and accelerating wage growth, two pillars of economic strength highlighted by the Fed as integral to a rate move. Higher lending rates will offer a way for financial firms to boost earnings after a challenging third quarter.
"Banks will see better fee income in a higher-rate environment, and that's what investors across the Street are looking at," said John Manley, who helps oversee about $233 billion as chief equity strategist for Wells Fargo Funds Management in New York. "The Fed finally has the data to begin slowly raising interest rates, and that wasn't the case in September."
Banks have already been climbing as the S&P 500 has rallied back from an August selloff. Financial-services stocks in the index have gained 9.8 percent since Sept. 28. They jumped 1.1 percent on Friday after the biggest monthly surge in payrolls this year boosted the chances of a rate increase. The group slipped 0.2 percent Wednesday.
Traders are now pricing in a 68 percent chance of a rate liftoff next month. That's up from about 50 percent a week ago, before Fed Chair Janet Yellen said a December increase was a "live possibility" and the October jobs report came in stronger than expected. Previously, the highest probability of a rate hike going into a Federal Open Market Committee decision was on Sept. 16, when traders saw a 32 percent chance of an increase before the next day's meeting.
The Fed has long proclaimed itself data-dependent, and the increased expectation of higher rates has mirrored signs of a U.S. recovery. The Citigroup U.S. Economic Surprise Index, which gauges how much data is beating or trailing economists' estimates, was negative at the time of the Fed meeting in September. It's since climbed, edging into positive territory on Monday for the first time since January.
"We had a temporary slowdown in economic growth through the third quarter, and people are now thinking that might've just been a pause," said Bill Schultz, who oversees $1.2 billion as chief investment officer at McQueen, Ball & Associates Inc. in Bethlehem, Pennsylvania. "The pendulum has swung back towards the possibility of a rate hike."
Bank earnings could use the boost that higher rates may bring, after a quarter in which bond trading revenue at the four biggest investment firms slumped 11 percent. Just 65 percent of financial companies exceeded profit estimates in the third quarter, making the sector the third-worst performer out of the benchmark gauge's 10 main groups.
The industry's recovery from the August selloff has also trailed the overall market, with the return since Sept. 28 ranking as the fourth lowest. Indeed, history may not favor financial shares before a potential December rate hike. The SPDR Financial Select Sector ETF has underperformed the broader SPDR S&P 500 ETF in 13 of the past 16 Novembers by an average of 2.2 percent, according to data compiled by Bloomberg.
Nevertheless, traders aren't seeing much of a downside. Short interest on the SPDR Financial ETF -- bets that it will drop -- sits at 0.86 percent of shares outstanding. It fell to 0.57 percent on Nov. 2, the lowest on record. The five-year average for the measure is 5.01 percent, the data show.
"At this point the Fed has the data to raise rates," said Manley. "They're only going to raise to the degree the economy isn't adversely affected, so that's a double-positive for financial firms. You're seeing that optimism reflected in trader behavior."
Before it's here, it's on the Bloomberg Terminal.
LEARN MORE