Valeant CEO Pledges to Heed Critics After 'Painful' Experience
Dermatology business to be hurt by Philidor shutdown

Shares slide in early trading after two days of gains
Striking a more reflective tone and pledging to listen to critics, Valeant Pharmaceuticals International Inc. Chief Executive Officer Mike Pearson sought to regain confidence from investors in remarks that painted a fuller picture of the drugmaker's financial exposure to a controversial pharmacy partner.
The shares slumped, suggesting he still has work to do. The stock slid 7.2 percent to $79.25 at 11:13 a.m. in New York, after closing up the two days prior.
In his first public comments since Valeant said it would cut ties with Philidor Rx Services, Pearson warned that the impact of the decision would meaningfully affect the dermatology business, which makes up almost a fifth of total revenue. On an almost 90-minute conference call Tuesday, he said the company was working to forge better relationships with insurers and to create a new program to ensure patients could get and afford the company's products.
"The past few weeks have been a painful learning experience for me personally, and I know it has been painful for many of you as well," Pearson said.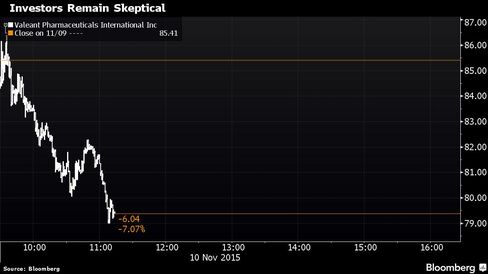 Concerns about Philidor and other business practices by Valeant, such as how it prices its drugs, have turned the drugmaker from one of the market's top-performing stocks into one of its worst. From the start of 2010, Valeant shares rose more than 18-fold to peak in August. Since that peak, they have lost 67 percent of their value, as of Monday's close.
"One of the consequences of such rapid growth is that you don't always take the time to listen to what the broader world outside your company is saying," Pearson said. "This has been a mistake on our part as a company and on my part as its leader. We're going to fix that."
Pearson made some headway, said Shibani Malhotra, an analyst with Nomura Securities. "We thought they did a very good job explaining, and in the past they've had very scripted responses," she said in an interview. "We've spoken to the management and we've given them advice that they should just answer the questions really honestly and openly, and I think they did that." Malhotra has a buy rating on the stock.
Pearson's message was more conciliatory than his comments during an Oct. 26 call, when the CEO denied allegations that the company was inflating sales figures through its relationship with Philidor. On that earlier call, while he acknowledged being slow to answer investors' questions, he also lashed out at stock commentary site Citron Research, which he accused of the equivalent of yelling "Fire!" in a crowded theater.
Taking Questions
By contrast, Tuesday's call featured no slide-deck presentation, and Pearson devoted the majority of the time to fielding analysts' questions.
Pearson said he couldn't comment on a board investigation into the relationship with Philidor, though he said the pharmacy's executives have assured him they did nothing wrong. Former Philidor employees have alleged that the pharmacy altered some doctors' orders to specify that they wanted brand-name drugs instead of generics, a way to get larger reimbursements for Valeant from health insurers. Philidor said that it only filled prescriptions with medications that doctors and patients requested. Weeks before Valeant said it would cut ties with Philidor, the drugmaker was planning to expand the relationship, Bloomberg has reported.
"Other allegations were made, in terms of the practices of Philidor," Pearson said Tuesday. "Management felt that given those allegations, given what was happening to our share price, that the best course of action was to cut ties with Philidor."
Winding Down
Philidor has stopped adjudicating insurance claims and will wind down operations by Jan. 30, and Valeant will develop a new program to help patients get its drugs by that time, Pearson said Tuesday. In the meantime, some prescriptions are being filled for free, and the company is discounting some treatments more deeply so physicians will keep prescribing them, he said. That will contribute to lower revenue from dermatology products in the fourth quarter, he said.
"Our strategy is actually to keep the volume, even if we have much lower prices in the short-term," Pearson said. "What we want to do is make sure doctors continue to not change their behavior."
Dermatological sales were $465.5 million in the U.S. last quarter, out of total revenue of $2.79 billion. Philidor represented about $190 million in third-quarter sales, almost all of which were for dermatological products, Pearson said.
Ackman's Defense
Bill Ackman, the billionaire hedge fund manager who runs Pershing Square Capital Management LP, is Valeant's third-biggest holder and has been one of the drugmaker's biggest defenders. On a conference call with investors Monday, Ackman called the company "largely a victim of fear and panic."
"I think that key shareholders probably support them still," Malhotra said. "If this goes on for another six months, then that's a question we'd ask again."
Valeant said on Oct. 19 that it might sell its neurology drugs unit, would invest more in research and development, and was less likely to buy companies and then raise the prices of drugs acquired in the deal. Pearson said on Oct. 26 the Philidor issue had put the possible sale of the neurology unit "on the back burner."
Valeant has said it will host an investor day and update financial forecasts before the end of the year. The company will spend "the lion's share" of its incoming cash on debt repayment next year, Pearson said Tuesday, and share buybacks are off the table in the short-term.
"The company is going to survive. The cash flows are strong and our momentum is good," he said. "We are going to get through these issues."
Before it's here, it's on the Bloomberg Terminal.
LEARN MORE