Sweden's Riksbank Says Refugee Crisis Has Policy Implications
One of Europe's most generous countries in its treatment of refugees says there may be some monetary policy perks to welcoming migrants.
Sweden's Riksbank now says its decisions "will not be unaffected" by the hundreds of thousands of asylum seekers entering the country. As the government raises spending to accommodate the influx of refugees, the demand being created in the economy is set to help the Riksbank reach an inflation goal it hasn't met for about four years.
"If one looks strictly from an inflation point of view, this is definitely good news for the Riksbank, which is really keen to boost inflation," said Olle Holmgren, an analyst at SEB AB in Stockholm. "The wave of refugees now coming to Sweden is something that will probably boost inflation. How much is unclear, but we're not talking about a completely negligible effect, at least not in the short-term."
For a central bank whose efforts to stimulate price growth risk being drowned out by the European Central Bank's much bigger support program further south, any source of inflation is good news.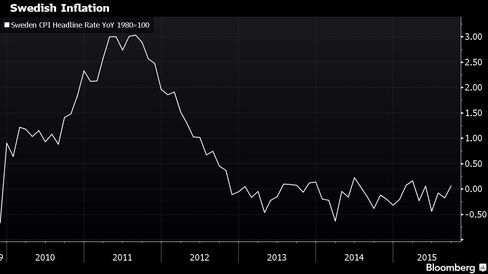 With its main interest rate already at minus 0.35 percent since July, the Riksbank expanded its quantitative easing last month in an effort to drive price growth closer to its 2 percent target. Underlying inflation has stayed below the Riksbank's 2 percent target since the beginning of 2011.
But with the fiscal policy environment heating up, prices may soon follow. The number of refugees entering Sweden could reach more than 350,000 this year and next. That's equivalent to almost 4 percent of the population, which is expected to increase to 10.7 million by 2019 from today's 9.8 million, according to new estimates made public today by the government. The migration agency sees refugee costs reaching 60 billion kronor ($7.1 billion) next year, double its earlier forecast. Economists have already warned that the pressure that is putting on the public purse means Sweden may breach its budget ceiling for the first time since the current policy framework was put in place in 1997.
The surge in the number of people entering Sweden also has the potential to speed up wage growth, according to Anna Breman, an economist at Swedbank AB in Stockholm. She estimates that the combined effect of the refugee wave could add 0.2 percentage point to inflation.
"This, in combination with the fact that it's more likely that the Fed will raise rates in December, has changed our forecast slightly," Breman said. "We've removed a further rate cut in December from our Riksbank forecast." Headline consumer prices probably grew 0.1 percent in October, according to a Bloomberg survey of analysts. Underlying prices were seen growing 1.1 percent from a year earlier.
Meanwhile, Swedish retailers are already feeling the extra demand. Ikea said last week its shops in Sweden and Germany are struggling to keep up with orders for mattresses as the number of refugees looking for somewhere to sleep keeps growing.
The Riksbank hasn't officially included any effects of immigration in its forecasts. It signaled last month that rates will stay at their current level until the spring 2017.
Martin Floden, one of the bank's six board members, says that "in the short term, it is likely that activities linked to the reception of applicants for asylum are contributing to an increased demand and higher resource utilization in the economy, and this may push up inflation." As far as the Riksbank is concerned, "a more rapid upturn in inflation would be welcome," he said.
Before it's here, it's on the Bloomberg Terminal.
LEARN MORE