Egypt Markets Battered as Tourism Crisis Seen Pressuring Pound
EGX30 Index drops most in world as biggest-listed bank slumps

Eurobonds slide as jet crash threatens economic growth
Egyptian stocks led declines in equity markets worldwide and the nation's Eurobonds tumbled as concern deepened last month's Metrojet plane crash will hobble tourism and force policy makers to take steps to shore up the financial system.
The EGX 30 Index fell 4.4 percent, the most in more than two months. Commercial International Bank Egypt SAE, the country's largest-listed lender, led the decline and has lost 12 percent of its market value this week. Egypt's dollar-bonds due 2025 dropped 2.2 percent to 88.82 cents on the dollar at 4:18 p.m. in Cairo, headed for the biggest decline since they were issued in June.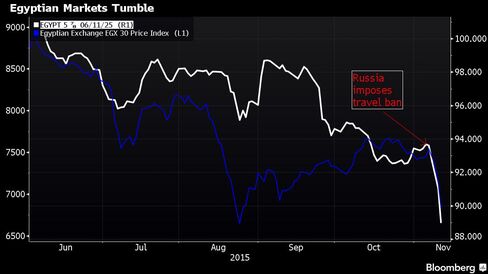 Last month's passenger jet crash led Russia, the biggest source of tourists for the North African country, to halt flights and repatriate thousands of vacationers amid speculation the plane was downed by a bomb. Tourism is a key source of foreign currency for Egypt.
"The main reason for Egypt softness in the past few days has been the rising terror fears due to the plane crash," said Mika Kannisto, a money manager at FIM Asset Management Ltd. in Helsinki, which oversees 1.6 billion euros ($1.7 billion). "Investors are worried how it will impact the tourists coming to Sharm. Tourism is important for the economy and especially for the FX situation that has been tight in the country recently."
Pound Pressure
Egypt's economy is grappling with a shortage of dollars. The central bank has already allowed the pound to depreciate by 11 percent in three rounds since the beginning of the year, though it remains near a 15-year high relative to the country's trading partners when adjusted for inflation.
The pound's implied exchange rate, calculated using the difference in the prices of the country's most liquid stocks trading in Cairo and abroad, fell to a record 9.43 per dollar. That compares with an official rate of 8.0301 pounds a dollar, which has been maintained by the central bank for more than three weeks.
The central bank is due to meet Dec. 17 to decide on its benchmark interest rate, which has been unchanged since a cut in January. Higher borrowing costs could curb economic growth, which has yet to recover to pre-Arab Spring levels.
Bank Profit
Since the country's 2011 uprising, lenders have increasingly used customer deposits to buy high-yielding government debt, helping companies like Commercial International, which dropped 6 percent on Tuesday, post record profits. The lender has tumbled this week after two government-owned competitors increased their deposit rates. Higher deposit rates could cut into profit margins, according to Cairo-based investment bank Pharos Holding.
"We are seeing signs of potential margin compression at commercial banks in
2016, following three years of stellar net interest margin expansion," Pharos Holding said in a research note before the stock market opened on Tuesday. If the central bank raises interest rates, "then the era of 5 percent-plus net interest margin is likely behind us and so is the era of three-times book share prices," it said.
The yield on the 2025 Eurobonds jumped 34 basis points to 7.53 percent.
Before it's here, it's on the Bloomberg Terminal.
LEARN MORE