Copper Imports by China Seen Weakening as Premium Plunges 40%
Yangshan premium drops to lowest in more than three months

Codelco expected to release China fee for 2016 next week
China's copper imports will probably decline after a benchmark premium in Shanghai slumped 40 percent in the past two months, a further sign of weakening demand in the world's biggest consumer.
The Yangshan premium, a barometer of supply and demand in the bonded warehouse zone, dropped to the lowest level since July after copper imports surged to a 20-month high in September. The fee's collapse shows that there is less demand for overseas supplies, according to Ye Yugang, a senior analyst at Jinrui Futures Co. in Shenzhen.
The world's second-biggest economy is facing the weakest growth in a generation as President Xi Jinping seeks to steer the country away from state investment toward consumer demand as the main driver of expansion. Overseas shipments dropped 6.9 percent in October from a year earlier in dollar terms, while imports plunged 18.8 percent, showing a decline in domestic consumption, according to customs data Sunday.
"Demand is slowing from end-users and from trading houses," said Jiang Ning, a senior analyst at SMM Information & Technology Co. in Shanghai. "Large, state trading firms have already met their annual targets and want to avoid risks over the rest of the year, while banks are these days more reluctant to issue letters of credit for imports."
The premium surged to a high of $122.50 a metric ton on Aug. 26 after smelters curbed sales, and imports of refined copper and products climbed to 455,258 tons in September, the highest since January 2014. While purchases fell to 420,000 tons in October, they were still the third highest this year. The fee was at $72.50 on Nov. 6, according to SMM data.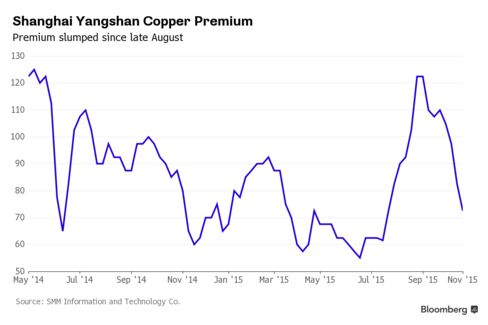 Importers pay the fee over London Metal Exchange prices to obtain metal from bonded warehouses in Shanghai. The slump in the premium may damp willingness on the part of Chinese buyers to accept high annual fees contracts with Codelco next year. The Santiago-based company is expected to announce the premium next week during an industry meeting in Shanghai. Japan's Pan Pacific Copper Co. has already cut fees by 9 percent, people with knowledge of the matter said last month.
Copper inventories in bonded warehouses rose 2 percent in October from a month earlier, mainly due to weaker domestic demand, according to a Bloomberg Intelligence survey. Stockpiles fell by 38 percent in the three months through September as widening arbitrage profits spurred the movement of metal from bonded warehouses to the domestic market, analysts Yi Zhu and Kenneth Hoffman said.
The recovery in copper imports in the second half will be temporary, Fitch Group's BMI Research said in a note, adding it expects growth in purchases to weaken because of the slowing economy and cooling housing market. Copper for three-month delivery on the LME has lost 26 percent in the past year and traded at $4,927 a ton on Tuesday.
— With assistance by Alfred Cang
Before it's here, it's on the Bloomberg Terminal.
LEARN MORE