Car Model Popular With Korean Company Chiefs Gets New Successor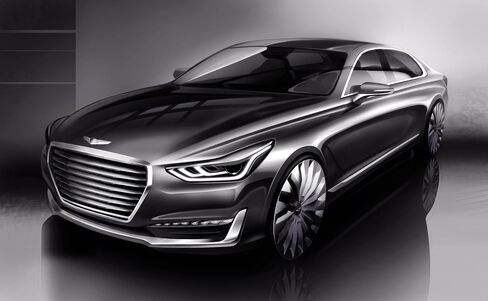 Hyundai unveils new G90 luxury sedan under Genesis brand

Automaker is counting on Genesis brand models to boost profit
The car model most popular among presidents of South Korean companies has got a successor.
Hyundai Motor Co. on Tuesday unveiled the new G90, the first Genesis model after announcing plans to separate the carmaker's luxury line-up into a standalone premium brand. The vehicle succeeds the company's former flagship Equus premium sedan.
The introduction comes days after Hyundai said it plans for the Genesis brand to have six models, including four new ones, by 2020. The move is an attempt by the company to move upscale and compete against the likes of Toyota Motor Corp.'s Lexus as well as revive profit that has fallen for seven consecutive quarters.
Seoul-based Hyundai has put the new G90, the Genesis brand's most significant vehicle, under thorough and exhaustive quality tests to "confidently compete against" other premium cars globally, it said in a statement.
The sedan models under the new brand will comprise of the G90, the Equus successor, the G80, currently the Genesis sedan, and a new rear-wheel drive platform based mid-size sedan called G70, which Hyundai plans to start selling in 2017. The three remaining models will be released by 2020.
The G90, which will be 4.5 centimeters longer and 1.5 centimeters wider than the Equus, will offer versions in 3.3-liter, 3.8-liter V6 GDI engines, and 5.0-liter V8 GDI engine, according to the statement. The company plans to begin sales of the G90 in December.
Plant deliveries of Hyundai's existing premium vehicles, including the Genesis sedan, Genesis coupe, and Equus, rose 1.8 percent in the nine months through September from a year earlier, according to company data. Exports from its plant of the Genesis, which is currently only produced in South Korea, jumped 47 percent during the period.
Before it's here, it's on the Bloomberg Terminal.
LEARN MORE