Emerging Markets Slump as Fed Seen Constricting Capital Flows
Ringgit, won lead declines among developing-nation currencies

Societie Generale says bull arguments for EM have `evaporated'
Emerging-market currencies weakened for a fourth day and stocks slid to the lowest levels in a month as investors became increasingly convinced that the Federal Reserve to start raising U.S. interest rates as soon as next month, fanning concern that capital outflows from developing countries will worsen as economic growth languishes.
The real ended a two-day gain as economists in a Brazilian central bank survey said the country's recession is worsening. Malaysia's ringgit, the Thai baht, India's rupee and South Korea's won each retreated at least 1 percent against the dollar. Indian shares fell after Prime Minister Narendra Modi's party lost an election in the country's third-most-populous state. The zloty strengthened as Societie Generale SA called the Polish currency it's sole bullish trade in emerging markets. Egyptian shares slumped to the lowest level since Sept. 13.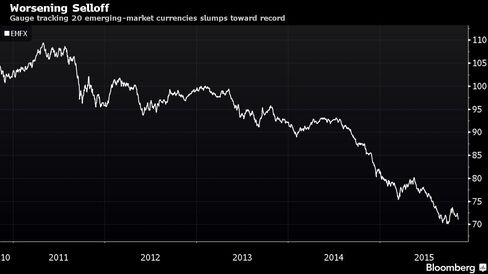 A gauge tracking 20 currencies in emerging markets declined 0.4 percent, building on a retreat last week after the biggest monthly surge in U.S. payrolls this year damped the allure of riskier assets. Resuming a cycle of rising U.S. interest rates will diminish the appeal of the higher yields offered in developing countries at a time when weakening oil prices and China's slowing growth are curtailing trade.
"Capital flows to emerging markets should continue to be negative as U.S. interest rates move higher," said Maarten-Jan Bakkum, a senior emerging-markets strategist at NN Investment Partners in The Hague. "Risk-reward in emerging markets is much less attractive due to the weak growth environment and more yield can be found in U.S. bonds."
India Vote
Bakkum prefers investing in India, the Philippines, Chile, Mexico and Poland because they aren't as dependent on foreign cash to finance their current accounts. Brazil, Turkey, Malaysia, Thailand and Russia are more prone to risks.
Investors pulled money out of U.S. exchange-traded funds that buy emerging-market stocks and bonds for the second straight week, with Taiwan accounting for the biggest outflows.
The MSCI Emerging Markets Index dropped 1 percent to 843.57 as all 10 industry groups retreated. Industrial stocks slumped 1.6 percent as companies from Eicher Motors Ltd. in New Delhi to SK Holdings Co. in South Korea retreated. Hyundai Merchant Marine Co. plunged 14 percent in Seoul after a report of a possible merger with Hanjin Shipping Co.
The ringgit slid to the weakest level since Oct. 2, South Africa's rand fell to a record for a second day. The real fell 0.8 percent. Economists now forecast Brazil's economy will shrink 3.1 percent this year and 1.9 percent next year, deeper than the 3.05 percent and 1.51 percent contractions they had estimated a week ago. India's currency dropped to the lowest level since Sept. 16 and the S&P BSE Sensex Index slipped 0.6 percent. Concern is growing that the election defeat by Prime Minister Narendra Modi's Bharatiya Janata Party in Bihar will hamper his ability to push through much-needed economic policies to strengthen the economy.
Fed Cloud
"Any bullish short-term arguments for emerging markets have evaporated," Societe Generale foreign-exchange strategist Jason Daw said in a research note. "The cloud of Fed tightening is too dark and macro too unsupportive to initiate any long EM exposure on tactical or fundamental grounds at this point."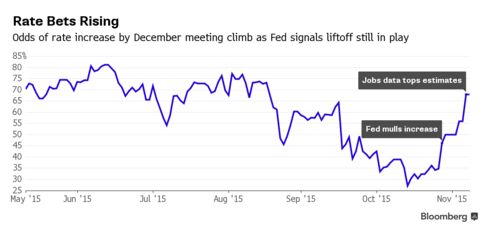 Poland's zloty advanced 0.4 percent to 4.2559 per euro, the biggest gainer among developing-nation peers. Daw said buying the zloty with euros is its only bullish trade in emerging markets. The premium investors demand to own emerging-market debt over U.S. Treasuries widened two basis points to 377 basis points, according to JPMorgan Chase & Co. indexes.
China IPOs
Chinese bonds tumbled by the most in two years as the government's plan to resume initial public offerings by year-end fueled concern investors will switch out of debt and into equities. Under the plan announced late Friday by the securities regulator, investors will no longer be required to deposit funds when applying for new share subscriptions. The Shanghai Composite Index rose 1.6 percent.
The rate on Turkish two-year notes increased 14 basis points to 10.18 percent.
The EGX 30 Index declined 2.8 percent as foreign investors dumped the most shares since April. The currency is coming under increased pressure after Russia, Egypt's biggest source of tourists, suspended flights to the North African country as investigators suspect last month's Metrojet crash was caused by a bomb.
Before it's here, it's on the Bloomberg Terminal.
LEARN MORE