Bill Gross's Janus Fund Attracted $5.9 Million in October
Soros previously pulled $490 million from account run by Gross

Unconstrained fund performance lags behind majority of rivals
Bill Gross's Janus Global Unconstrained Bond Fund attracted $5.9 million in October, according to data compiled by Bloomberg, following redemptions of $47 million in September amid lackluster returns.
George Soros's firm pulled $490 million from an account run by Gross after he invested the money last year following the manager's departure in September from Pacific Investment Management Co., Bloomberg reported earlier this month, according to a person familiar with the matter. The Soros money wasn't part of the mutual fund.
The $1.39 billion Janus fund lost 1.3 percent this year through Nov. 6, trailing 78 percent of peers, according to data compiled by Bloomberg. Gross told Bloomberg last week that he's certain the Federal Reserve will increase U.S. interest rates in December and that his fund is benefiting from its negative duration.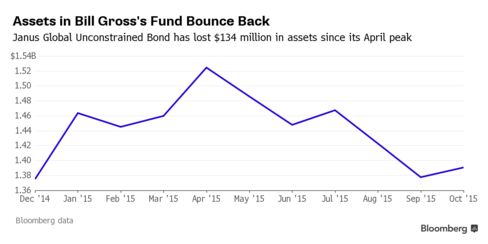 Billed as Janus's Peyton Manning ("that game changing level of talent") by Janus Chief Executive Officer Dick Weil, Gross has failed to attract large amounts of outside money to his new fund. Gross personally invested $700 million in the mutual fund, according to a January filing, or about half its total assets.
Legal Clash
Gross sued Pimco last month, claiming he was pushed out by executives seeking a bigger share of the annual bonus pool. The public dispute could drag on as the fund firm, which today sought to get the case dismissed, disputes the allegations.
Redemptions at Gross's old fund, Pimco Total Return Fund, reached 30 straight months in October as investors withdrew $1.6 billion, the smallest monthly outflow since July 2014. The fund, once the world's largest mutual fund, had $93.7 billion as of Oct. 31, down from a peak of $293 billion in April 2013.
Janus spokeswoman Erin Passan declined to comment on Gross's fund.
Before it's here, it's on the Bloomberg Terminal.
LEARN MORE