Rupee's Resilience Draws HSBC to India Bonds as PBOC Seen Buying
Aberdeen Asset has "a very positive view on the economy."

Indian sovereign debt made 10.9 percent over the past year
As the Federal Reserve prepares to raise interest rates from a record low, India is tipped to remain Asia's brightest spot for fixed-income investors.
HSBC Global Asset Management says the rupee's resilience is a reason it's been buying the nation's debt, while Aberdeen Asset Management Plc is adding to holdings on the promise of economic reforms. The People's Bank of China bought Indian bonds for the first time as foreign-ownership limits were relaxed in October, the Economic Times newspaper reported last week.
"If you have a range-bound currency, slowly recovering global growth and
inflation that is structurally lower, this makes for a very good cocktail for
bond investment," said Gordon Rodrigues, the Hong Kong-based head of Asian
rates and currencies at HSBC Global Asset, which managed $447 billion as of
June 30. "Even when the Fed decides to hike and the markets have any kind of
tantrum around that, India should be a resilient market."
Indian sovereign debt made 10.9 percent in local-currency terms over the past year as slowing consumer-price increases prompted Reserve Bank of India Governor Raghuram Rajan to reduce benchmark borrowing costs to a 2011 low. India's rupee has returned 1.5 percent this year, Asia's best performance, and will deliver another 5 percent including interest on deposits, by mid-2016, according to a Bloomberg survey of analysts. A gauge of expected rupee swings against the dollar slumped to an August-low on Oct. 30 even as expectations built for a U.S. rate increase.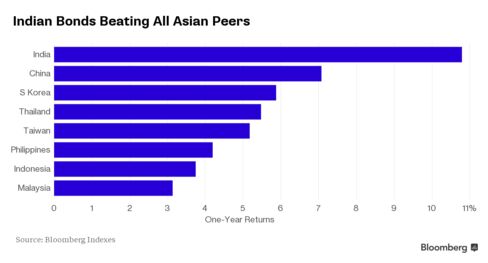 The rupee "will become more attractive as an investment currency," Rajan said in an interview in Mumbai last week. "There are lots of people elsewhere who want to buy rupee bonds because of higher rupee interest rates and greater confidence in Indian inflation prospects."
A 58 percent plunge in Brent crude from a 2014 high has helped slow inflation and improve public finances in Asia's third largest economy, boosting investor confidence. Nomura Holdings Inc. estimates India's current-account deficit will narrow to a decade-low 0.9 percent of gross domestic product in the year through March 2016, while Prime Minister Narendra Modi's government aims to cut the budget gap to an eight-year low.
"We have a very positive view on the economy," said Adam McCabe, Singapore-based head of Asian fixed income at Aberdeen, which oversees $483 billion of assets. "India has a real chance of being re-rated in a positive sense. What that means is that the combination of Modi and Rajan undertaking administrative reforms, trying to improve the ease of doing business, incentivizing competitive federalism -- these are the things that help to reduce the country-risk premium."
Adding Exposure
Aberdeen in September started an India-focused fund investing in the nation's corporate and government debt.
HSBC's India Fixed Income fund, which completed three years in August, returned 1.7 percent in the past year, beating 86 percent of single-region open-ended funds, data compiled by Bloomberg show. It got off to a poor start as the rupee slumped, losing 8.1 percent in 2013. The fund, which invests in Indian debt denominated in rupees and other currencies, had $348.8 million in assets as of Sept. 30, with about 70 percent in sovereign and quasi-sovereign notes, according to its fact-sheet.
Indian sovereign bonds fell in October, halting a three-month rally, amid concern rising food costs will stoke inflation. The benchmark 10-year yield climbed 10 basis points. DSP BlackRock Investment Managers Pvt, the local venture of the world's largest asset manager, said last week that consumer prices are likely to trend higher, limiting the central bank's scope to add to 125 basis points of interest-rate cuts this year.
The 10-year yield rose four basis points to 7.73 percent, the highest since Sept. 28, in Mumbai on Monday, data compiled by Bloomberg show. Similar-maturity AAA-rated corporate bonds pay 8.21 percent.
"We continue to add exposure to India as we still think it is one of the strongest stories that will play out over the next 12 months in Asia," said HSBC Global's Rodrigues. "For me, it is a medium-term story, not a short-term story, where we are either looking for capital gains plus income and, if the currency stays in a range, then it plays out quite well on a total return basis."
Before it's here, it's on the Bloomberg Terminal.
LEARN MORE