Lufthansa Offers Flight Attendants Bonus Payment to Stop Strike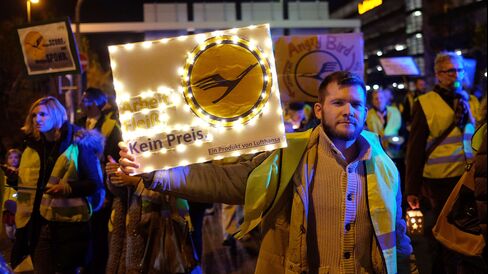 Airline offered higher bonus, better early retirement terms

Cabin crews target German long-haul services on Tuesday
Deutsche Lufthansa AG's cabin crew union rejected an offer for a higher one-time payment of 3,000 euros ($3,228) for flight attendants in exchange for an immediate halt to their walkout, making it the longest in the carrier's history.
The German carrier, which previously had offered 2,000 euros per person, said late Monday it was inviting the UFO union to hold talks on Tuesday with top executives over the proposed payment and other concessions to avoid a prolonged walkout. That came after the union asked members serving on long-haul flights from Lufthansa's main Frankfurt and Munich hubs and employees in Dusseldorf not to work on Tuesday.
"We want to prevent with all means further disruptions for our clients which we had to disappoint during the past days," Karl Ulrich Garnadt, who heads Lufthansa's passenger airlines division, said at a press conference in Frankfurt announcing the offer. "Hence we want to create all prerequisites from our side to end this strike as soon as possible."
UFO's campaign against Lufthansa's efforts to curb retirement benefits has already hampered travel for three of the past four days. The stoppage Tuesday would hit mainly intercontinental services, the carrier's most lucrative. UFO chief Nicoley Baublies called the offer a "provocation" and said by phone that the strike will go ahead as planned on Tuesday. He said the union is considering to continue negotiations.
Flights Scrapped
Lufthansa had to scrap more than 1,700 flights since Friday, making the conflict the airline's most disruptive by flight attendants. A related protest by Lufthansa pilots led to 9,700 cancellations in 2014 and more than 3,100 this year. Those stoppages ended when a German court ruled in September that most recent halt marked an illegal move by the pilots' union to fight corporate strategy in which labor doesn't have a say. The verdict applied to one walkout only and doesn't extend to cabin crews, which negotiate contracts separately.
Lufthansa estimates that the 18 months of walkouts by pilots cost the Cologne, Germany-based company 352 million euros ($379 million). That's still short of the 425 million-euro hit that Air France-KLM Group incurred from a pilots' strike in the second half of September. Lufthansa hasn't yet given any figures for costs caused by the cabin-crew work halts. The longest previous set of walkouts by flight attendants at Lufthansa was three days of stoppages in late August and early September 2012.
The carrier's website lists 117 cancellations of long-haul flights for Tuesday and Wednesday. Flight attendants went on strike on Monday at 4:30 a.m. in Munich, Frankfurt and Dusseldorf, sparking 929 cancellations. That followed nine hours of walkouts in Frankfurt and Dusseldorf that led to the scrapping of 290 services on Friday and a 17-hour halt that caused 520 cancellations on Saturday. UFO suspended the strike on Sunday to spare German holidaymakers returning home at the end of a school vacation. The union said that talks with the airline over the disputed retirement rules collapsed, triggering the resumption of the protests.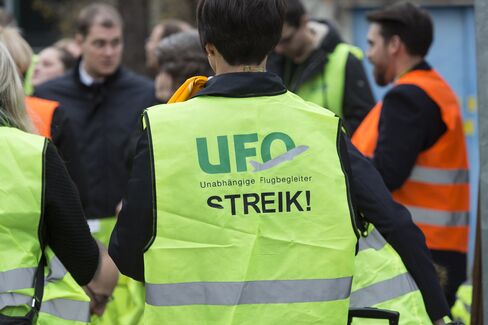 The dispute with flight attendants is part of Lufthansa's broader struggles with labor as it seeks to push through restructuring plans to better compete with low-cost rivals like Ryanair Holdings Plc and EasyJet Plc, Europe's two biggest discount carriers. The key to Chief Executive Officer Carsten Spohr's effort is the development of Lufthansa's Eurowings division into a low-cost arm, the strategy that the German court upheld in its ruling against the pilots.
"Spohr made it clear that he will not accept any deal with the unions that would dilute the Eurowings model," Johannes Braun, an analyst at Commerzbank AG, wrote in a report to clients. "Eurowings will remain outside the group collective labor agreement and is clearly intended to create internal competition and thus to increase pressure on mainline staff for concessions."
Separate contract talks are under way with Ver.di, the German union representing Lufthansa ground workers. Unions are also jockeying for position as a new German law could limit collective-bargaining power to only the biggest labor group.
Lufthansa fell 3.1 percent to 13.52 euros at the close of trading in Frankfurt on Monday. The stock has declined 2.3 percent this year, giving the carrier a market value of 6.28 billion euros.
The walkout on Monday affected 113,000 passengers, adding to the 58,000 who couldn't fly Saturday. Only the Lufthansa brand is being targeted, with other divisions Germanwings, Swiss and Austrian Airlines unaffected by the halts.
UFO has vowed to call strikes until Nov. 13. The union has criticized Lufthansa's stance on costs after the airline increased its earnings forecast for the year on Oct. 29 and a drop in oil prices contributed to a 51 percent surge in third-quarter operating profit.
Before it's here, it's on the Bloomberg Terminal.
LEARN MORE