Vietnam Leader Calls on Xi to Not Militarize South China Sea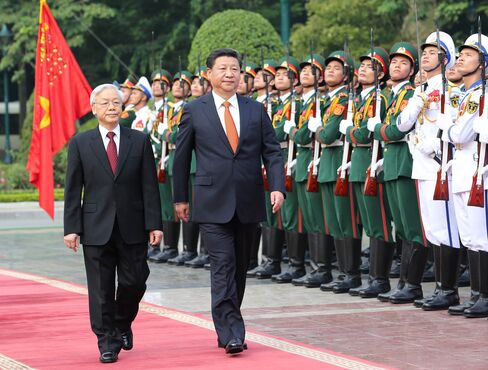 Communist chiefs discuss territorial disputes in Hanoi meeting

Chinese president visiting to mend strained ties with neighbor
Vietnamese Communist Party General Secretary Nguyen Phu Trong personally urged Chinese counterpart Xi Jinping to not militarize the South China Sea and make sure that territorial disputes don't damage the neighbors' cultural, ideological and economic ties.
QuickTake Territorial Disputes
The head of Vietnam's ruling party delivered the message in a meeting Thursday as part of Xi's two-day state visit to the country, according to Vietnam's government website. The two countries should "realize negotiation mechanisms" to resolve disputes in the sea and "seek basic and long-term solutions that both sides mutually accept," including developing a code of conduct for the waterway, Trong said.
Xi's using the trip to mend diplomatic ties that have been strained by China's efforts to assert its claims to the sea, including building islands, airstrips and other facilities that the U.S. says may lead to militarization of the area. Although China accounts for one-fifth of Vietnam's total trade, only 19 percent of Vietnamese hold favorable views of the country. Riots erupted last year after a China placed an oil rig near disputed islands and police broke up a rare protest in Ho Chi Minh City opposing Xi's arrival Thursday.
Xi told Vietnam's National Assembly on Friday that China's relations with Vietnam have reached the level of strategic importance.
"The address is quite significant given the recent tension in bilateral ties," said Le Hong Hiep, a lecturer at Vietnam National University in Ho Chi Minh City. "It seems they are making efforts to fix the relationship and calm social media in Vietnam. China seems to be trying to win Vietnam back."
China wants to prevent its Cold War ally from drifting closer to the U.S. while Vietnam is keen to maintain good relations with its top trading partner and more powerful neighbor. During the trip, China announced that it would provide a $250 million loan to support an urban railway project in Vietnam.
Maritime Disputes
While discussing maritime matters with Trong, Xi "urged the two sides to properly deal with and control their differences, gradually accumulate consensus and expand common interests through bilateral negotiations, and strive to achieve the common goal of joint exploitation," according to China's official Xinhua News Agency. Both sides agreed to work together to settle differences at sea and preserve stable ties.
While China has denied "militarizing" the reefs and islands it controls in the South China Sea, the country has acknowledged "a limited amount of necessary military facilities for defense purposes only."
China's claims to more than 80 percent of one of the world's busiest shipping lanes overlap with those of Brunei, Indonesia, Malaysia, the Philippines, Taiwan, as well as Vietnam. The U.S. Navy last month sailed a warship to within 12 nautical miles of an artificial island built by China to challenge its territorial claims and assert other nation's rights under international law to pass through the waters.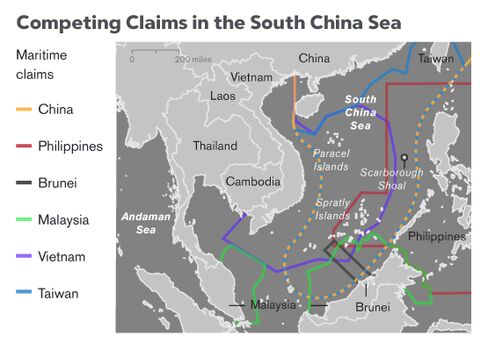 Disagreements over the South China Sea dominated a gathering of Southeast Asian defense chiefs and their security partners, China, Japan and the U.S., in Kuala Lumpur this week, with the ministers failing to agree on a joint communique. During the meetings, Chinese Defense Minister Chang Wanquan urged his Japanese counterpart, Gen Nakatani, against taking any actions that might complicate the situation in the South China Sea.
Before it's here, it's on the Bloomberg Terminal.
LEARN MORE