Singapore Air Offers $322 Million to Take Tiger Air Private
Carrier will pay 41 Singapore cents for every Tiger share

Singapore Air also planning more direct flights to U.S.
Singapore Airlines Ltd. offered to pay S$453 million ($322 million) for the shares it doesn't own in Tiger Airways Holdings Ltd., the money-losing low-cost unit it listed less than six years ago, saying it wants to enhance operations across the group's network.
Southeast Asia's largest carrier, which owns 55.8 percent of Tiger Airways, said Friday it plans to pay S$0.41 in cash for each share. While that's 32 percent higher than Thursday's close, it's not even one-third of the S$1.50 share price in Tiger Airways's initial public offering in January 2010.
Singapore Airlines is seeking to delist Tiger Airways after it made losses in five of the past six quarters because of over expansion in a competitive market that has caused other airlines to privatize or collapse. Malaysia Airlines was taken private last year after two plane crashes, and there have been reports -- denied by management -- that AirAsia Bhd., Malaysia's biggest budget carrier, also could be privatized.
"Well-Timed"
"Tiger Air has been restructuring operations by cancelling loss-making routes. By doing so, earnings are at an inflection point," Alan Richardson, a Hong Kong-based money manager at Samsung Asset Management Ltd., said in an e-mail. "This is a tactically well-timed move for Singapore Air."
Shares of Singapore Air fell 0.1 percent to close at S$11.14 in the city state. Tiger Airways jumped by a record 32 percent to close at S$0.41, the price Singapore Airlines is offering to pay shareholders.
Tiger Airways shareholders will have the option of buying Singapore Air shares at S$11.1043 each, a 0.4 percent discount to Thursday's close. The flag carrier said it has no plans to lay off workers.
Singapore Air injected funds into Tiger Airways last year by increasing its stake to include the budget carrier as a subsidiary, along with SilkAir and Scoot Pte. Tiger Airways has reduced capacity, cut routes and ended partnerships in Australia, Indonesia and the Philippines to improve its financials.
"We've been encouraging Scoot and Tiger to cooperate and to commercially integrate as much as possible," Singapore Air Chief Executive Officer Goh Choon Phong said at a briefing Friday. "We've seen that progress. We think now is the time to take the integration and the synergies to the next level and what we're doing now is necessary."
Tiger Airways's restructuring is symptomatic of the challenges low-cost airlines face in South and Southeast Asia, where many budget carriers are unable to take advantage of increasing traffic because of low fares and high capital expenditures on new planes.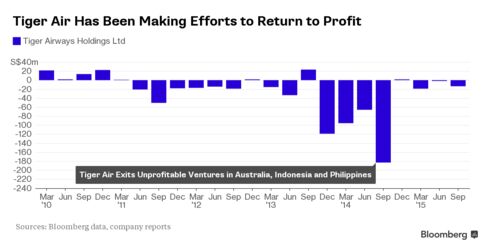 Tiger Airways reported a loss of S$12.8 million in the three months ended September, down from S$182.4 million a year earlier, and filled 84.1 percent of its seats. Passenger yields, or the money earned from carrying travelers one kilometer, rose 8.2 percent to 6.6 cents.
Growth Engine
"Our investment in Tiger provides the SIA Group an additional engine of growth in an expanding segment of the air travel market," Goh said in an e-mail to employees. "This ultimately strengthens the SIA Group as it enables us to tap into market segments that would not otherwise be available to us."
Asked about the price differential from Tiger Airways's IPO level of S$1.50, Goh said Friday's offer price was "very compelling." He noted that it's higher than Tiger Airways's recent stock performance and analyst targets.
"This is about generating growth," Goh said. "For shareholders, if you wish to participate in this exciting industry and all is about growth -- not just for Tiger but for the whole group -- there's an option for shareholders to continue to participate in that growth with a subscription to SIA shares."
The offer comes a day after Singapore Air reported group net income more than doubled to S$213.6 million in the quarter ended September, after adding Tiger's earnings into its own account. The group's operating profit dropped 2.3 percent to S$129 million, with the flagship carrier's profit falling 29 percent to S$98 million.
Hedging Losses
The company said savings from lower fuel prices were partially offset by hedging losses. The airline has hedged 50.7 percent of its fuel needs for the second half of the fiscal year to March 2016 at an average price of $93 per barrel. Singapore Air expects losses from fuel-hedging to decline, Chief Financial Officer Stephen Barnes said at a briefing Friday.
The airline plans to restart nonstop flights to New York and Los Angeles from Singapore in 2018 and expects to add a third U.S. destination with new Airbus Group SE A350 aircraft, Goh said. Singapore Air has ordered seven A350 ultra-long range planes and could consider adding more, he said.
Singapore Air also offers flights to 46 Asian destinations through its SilkAir subsidiary. It has been enhancing cooperation between Tiger Airways and Scoot, including by offering seats on each others' planes. The two budget carriers will continue to be run separately for now, Goh said.
"It makes complete sense for Tiger Air to be a 100 percent owned subsidiary of Singapore Airlines," said Timothy Ross, a Singapore-based analyst at Credit Suisse Group AG. "I can see a number of unexhausted areas of synergies."
Before it's here, it's on the Bloomberg Terminal.
LEARN MORE