Citigroup to the Fed: Hike Rates to Help Consumers
There's a growing group of economists arguing that boosting benchmark interest rates would help boost spending, too.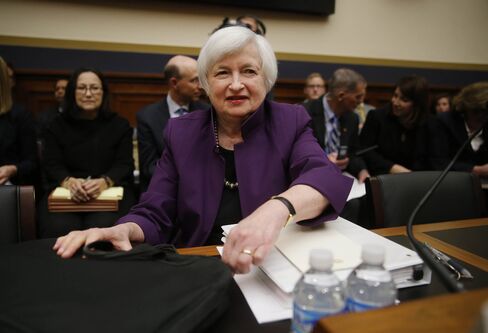 Citigroup's Head of North America Economics William Lee recently accused Federal Reserve Chair Janet Yellen of making a rookie mistake by letting market unrest deter the U.S. central bank from raising rates in September.
Now, the former Federal Reserve Board and New York Fed economist is advocating a view that's considerably more advanced and controversial: Liftoff by the central bank should be welcomed, as it would give consumer spending a boost.
Lee's jumping on board with a group of economists — which includes Deutsche Bank's Binky Chadha and Joe LaVorgna, UBS's Drew Matus, and JPMorgan's David Kelly — in espousing the opinion that a rise in interest rates from current levels would be a net positive for consumer spending.
"Interest-bearing assets have become a growing share of household net worth since 2009," explained Lee. "This profile of rising interest-bearing assets is consistent with an aging U.S. population that has accelerated deleveraging by paying off their loans more quickly in the aftermath of the 2008 Crisis."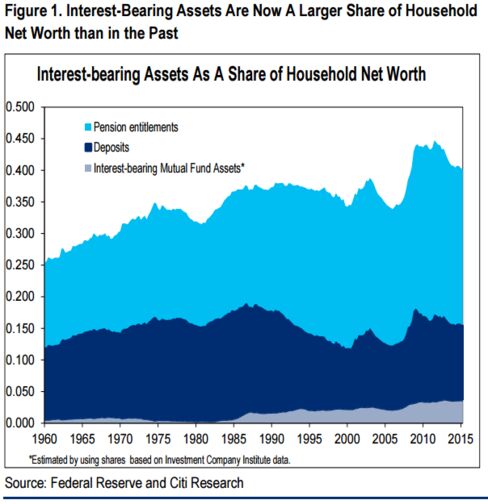 The economist suggests that higher interest rates enable households to save a smaller share of their aggregate income in order to meet certain targeted wealth goals that they deem to be a prerequisite for retirement. As such, more funds are then freed up for disposable spending.
An analysis by Citi found that the responsiveness of consumer spending to rising equity prices has declined — that is, the wealth effect has diminished. Conversely, since 2010, consumption growth has responded well to rising interest rates, and the magnitude of the positive income shock's transmission to spending has been increasing: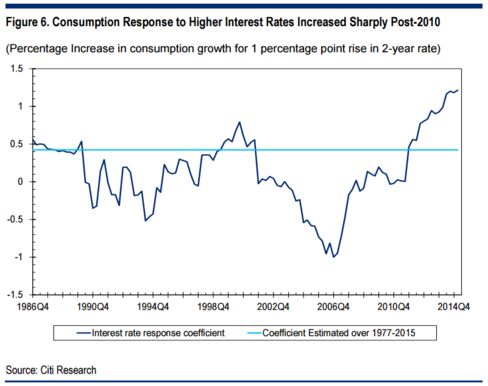 "The growing size of household holdings of interest-bearing assets has reached the point where the 'permanent' income gained from sustained higher interest rates has a material impact on expenditures," Lee asserted. "Consequently, if interest rates rise by one percentage point, this could boost the household income by $170 billion (i.e., $256.2 billion to $85.4 billion) and consumption by 1 percent."
However, Lee doesn't think the Fed will begin to embark on a tightening phase in 2015. "This FOMC has repeatedly demonstrated they can be distracted easily from their macro dual mandate objectives by market events," he wrote.
We don't have much of a clue as to how markets will react whenever the central bank does decide to deliver a rate hike. Increasingly, this same uncertainty seems to be extending to how liftoff will affect real economic activity as well.
Before it's here, it's on the Bloomberg Terminal.
LEARN MORE