World Sets New Price on Norway Economy as Oil Adjustment Looms
The world is setting a new price on Norway and its chief central banker couldn't be happier.
The krone has emerged as the worst performer among the most-traded rich-world currencies over the past year on the back of a more than 40 percent decline in oil. That's exactly what the country needs, according to Norges Bank Governor Oeystein Olsen.
"There's significant rationale underlying that that movement has been accompanied by a weaker krone," Olsen said in an interview after a press conference on Thursday. "To some extent the market searches for a new equilibrium price or a real exchange rate for the Norwegian economy."
Olsen's comments came after he kept the overnight deposit rate at a record low of 0.75 percent, saying that the weaker currency was helping prop up the economy from the worst ravages of the oil slump. Western Europe's biggest oil and gas producer is in the midst of the biggest decline in offshore investments in more than a decade as companies such as Statoil ASA cut spending and fire workers.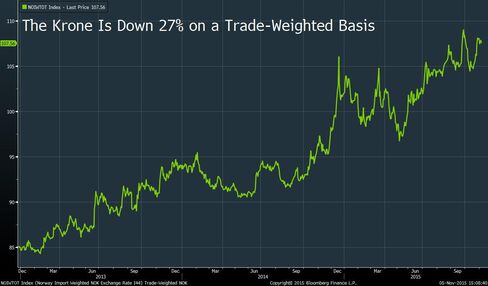 The decision and accompanying statements spurred what Danske Bank A/S called a "relief rally" in the krone as many had expected a clear signal for a cut next month.
The krone strengthened as much as 0.9 percent against the euro after the decision.
Still, it has lost 12 percent in the past year, according to a Bloomberg Correlation Weighted Index of 10 currencies. And for those searching for a new level, the currency -- on a trade-weighted basis -- has slid almost 30 percent since a high in early 2013. It's now 14 percent weaker than the average over the past 16 years.
"So far the economy seems to have handled the challenges. The krone has weakened, and that helps," Olsen said. He didn't provide any update to the bank's September signal that it anticipates rates will be further reduced in "the coming year."
The weaker currency has driven inflation above the bank's 2.5 percent target for four consecutive months, and the bank doesn't see that abating until early 2017. Still, the bank said in September its rate may fall to 0.59 percent in the third quarter of next year. That has left economists wondering whether Olsen's inflation mandate, or the real economy, is more important.
"If the krone appreciates fast you will see a Norges Bank reaction as wage growth is still relatively high," said Kristoffer Kjaer Lomholt, an analyst at Danske Bank.
Before it's here, it's on the Bloomberg Terminal.
LEARN MORE