Valeant's Drop Continues Unabated as Stock Falls Below $80
Ackman tells newspaper he questioned whether CEO should go

Drugmaker loses more than 70% of its value since August
Valeant Pharmaceuticals International Inc. dropped below $80 a share for the first time in more than two years as investors grappled with the drugmaker's mounting challenges and a top shareholder, Bill Ackman, discussed how his confidence in the company's leadership had briefly wavered.
The shares fell as low as $73.32 before recovering some ground. They were down 11 percent to $81.74 at 11:57 a.m. in New York. If the decline holds, it will be the sixth trading day in six weeks with a drop of at least 10 percent. The company now has a market value of about $28 billion, compared with more than $80 billion in August.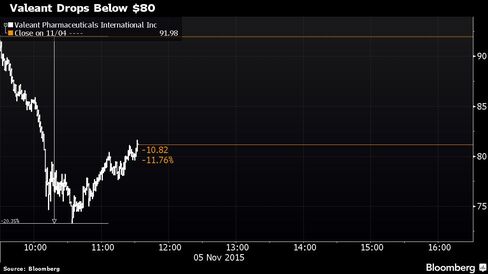 Valeant has been under pressure over how it prices its drugs and its relationship with Philidor Rx Services, a mail-order pharmacy that it cut ties with on Oct. 30. Members of Congress said Wednesday that they want to investigate Valeant's pricing practices.
Valeant's slump gained momentum after it fell below two prices that had marked the bottom of its October swoon. The shares opened today at $92 and quickly slid below $90.46, the lowest level on Oct. 30, and $88.50, the bottom of the selloff on Oct. 21.
In an interview published late Wednesday, investor Bill Ackman, one of Valeant's top shareholders, recounted to the Wall Street Journal how he has pressed the drugmaker's executives for answers and has told the company's lead director that Chief Executive Officer Mike Pearson may need to leave.
Ackman told the newspaper he pushed Valeant to hold a conference call to "come clean" and disclose the full extent of executives' knowledge about Philidor, and that he was disappointed the company didn't comply.
"If Mike hides in the bunker on this, he can't be CEO," Ackman said he told Valeant's lead director, Bob Ingram. Ingram replied that Pearson couldn't discuss the matter because the drugmaker's investigation is in progress, the newspaper said.
Ackman was later satisfied when Valeant said it would end its relationship with Philidor. "We think there are perhaps some shareholders who lost confidence in Mike Pearson," he said on a conference call on Oct. 30. "But let me be clear, we have not."
A Valeant spokeswoman and Ingram didn't immediately respond to requests for comment. Fran McGill, a spokesman for Ackman's Pershing Square Capital Management, declined to comment.
"Valeant's current issues aside, the prospect of not having Mr. Pearson at the helm is probably further eroding investor confidence, which probably explains today's weakness," Alex Arfaei, an analyst at BMO Capital Markets, said in a note Thursday. He said Pearson should stay at the helm of the drugmaker.
Congressional Probes
Lawmakers in both houses of Congress have asked Valeant for documents related to the heart drugs Nitropress and Isuprel, whose prices shot up by 212 percent and 525 percent the day the drugmaker acquired the rights to sell them. In the House, Democrats are pushing for a vote on a subpoena for the companies to hand over documents on price increases. The U.S. Senate's Special Committee on Aging, meanwhile, will investigate drug pricing practices by Valeant and three others.
"We look forward to cooperating with the committee on its inquiry," Valeant said in an e-mailed statement Wednesday on the Senate investigation. "The list price of any individual drug typically does not reflect the actual amount paid by a health care provider or insurance company, and Valeant devotes a significant portion of its revenue to patient assistance programs that are designed to make important medicines more affordable to the patients who need them."
Democratic presidential candidates Hillary Clinton and Bernie Sanders have both said they'll seek reforms in the drug industry. Republican presidential candidate Marco Rubio also has said "pure profiteering" in the pharmaceutical industry is something that needs to be confronted.
Pharmaceutical Research and Manufacturers of America, the drug industry's main lobbying group, also has distanced itself from Valeant, saying its strategy "is more reflective of a hedge fund than an innovative biopharmaceutical company."
Valeant has received subpoenas from the U.S. Attorney's offices in Massachusetts and Manhattan seeking information on drug pricing decisions, the company said last month. It also has been under scrutiny for its relationship with Philidor. Former Philidor employees alleged that the pharmacy altered some doctors' orders to specify that they wanted brand-name drugs instead of generics, a way to get larger reimbursements for Valeant from health insurers. Philidor said that it only filled prescriptions with medications that doctors and patients requested.
Weeks before Valeant said it would cut ties with Philidor, the drugmaker was planning to expand its use of the mail-order pharmacy, Bloomberg News reported Wednesday, citing three people familiar with the matter. Philidor was on the brink of becoming a larger part of Valeant's operations as the drugmaker planned to widen the pharmacy's role beyond dermatology to other lines of medications, the people said.
Watch Next: Valeant Falls Below $80 for First Time in Two Years
Before it's here, it's on the Bloomberg Terminal.
LEARN MORE