Modi in Close Fight for Key India State as Exit Polls Split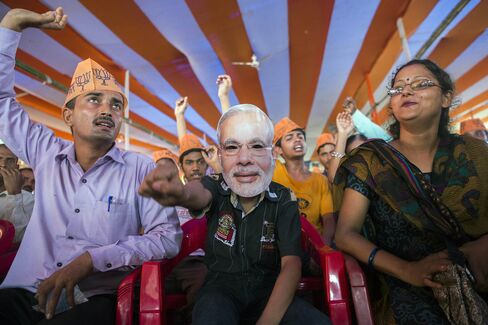 Average of six polls show a dead heat in Bihar election

Most accurate forecaster of 2014 sees a Modi landslide
Indian Prime Minister Narendra Modi's fate in his biggest political test of the year remains uncertain after voting ended on Thursday.
Exit polls in Bihar, a state with more people than Germany, were inconclusive: Four showed Modi's opponents winning the most seats, while two -- including the most accurate in last year's national election -- showed Modi out in front. The winner will emerge when ballots are counted on Sunday.
If Modi's group falls short of a majority, it could spur a period of political bargaining to set up a government in one of India's poorest states. At stake for the prime minister is turning the national spotlight back to his economic reform program, amid opposition efforts to focus on signs of rising social tensions in the multi-ethnic, multi-religious nation.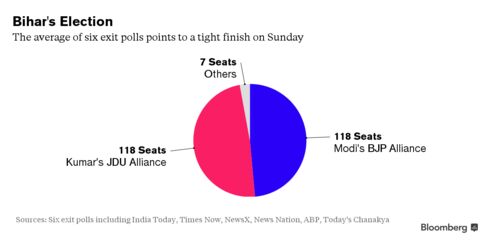 "If the exit polls don't show clear direction, the market will remain range-bound and may struggle to hold current levels," said Deven Choksey, the Mumbai-based managing director at brokerage K.R. Choksey Shares & Securities Pvt., referring to equities. "We need a strong government for reforms to be implemented and for a change in investor mood."
Exit polls in India have a checkered history, making it tough to reach hard conclusions about the Thursday evening reports. In the case of a state election in New Delhi, the polls indicated a much closer race than the final result, which saw an anti-corruption party winning almost every seat.
Today's Chanakya, which predicted Modi's landslide win last year, forecast the largest victory margin for his Bharatiya Janata Party-led coalition in Bihar. It said that Modi's allies would win 64 percent of all seats, compared with 34 percent for the opposition.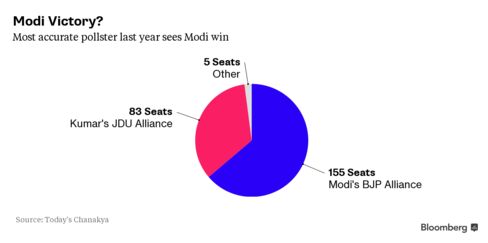 Four other polls said Modi's opponents would win the most seats. A loss in Bihar would embolden government opponents who have sought to block policy proposals including a national sales tax. It would also strike a blow to Modi's campaign to win enough state elections to get a majority in the federal parliament's upper house, currently controlled by the opposition.
Lalu Prasad, a top leader of the loose alliance of anti-Modi opposition parties in Bihar, said his bloc would win 190 of the 243 seats up for grabs.
"Prime Minister Modi has been exposed and it is a verdict on him for having lied," Prasad said, repeating an oft-repeated campaign barb. "He has done nothing to fulfill his promises and this is the result."
The Modi-loss scenario would mark one of his biggest setbacks since taking power last year, according to Badri Narayan Tiwari, who teaches political science at G.B. Pant Social Science Institute based in Allahabad, Uttar Pradesh.
"On the policy front, Modi will find himself alienated in parliament as the opposition will be energized," Tiwari said.
Muslim Vote
Modi had invested himself heavily in the campaign. Over the past four months, he addressed about 30 rallies in Bihar, where about 100 million people live and the average income is less than $2 a day.
The election saw a turnout of 57 percent, the highest in Bihar assembly polls since 2000, the Times of India reported. A large reason was because women voters outnumbered men in each of the five phases of the state poll, it said.
Perhaps the biggest question is whether the result will affect the passage of legislation to establish a national sales tax, known as the GST, in the winter session of parliament, which may start this month. In recent weeks, the main federal opposition Congress party has accused Modi of creating a culture of intolerance. It criticized him for waiting more than a week to condemn the murder of man for killing a cow, an animal considered sacred in Hinduism.
In Bihar, where Muslims are in a minority, the exit poll of Today's Chanakya showed only 9 percent of Muslim voters said they supported the BJP-led coalition, with 85 percent favoring its competition.
Indian Finance Minister Arun Jaitley said India would press forward with reforms in the national parliament no matter what happens in Bihar. These include a bankruptcy law, changes to foreign-direct investment rules and a faster dispute-resolution mechanism for public contracts.
"At the end of the day, it will be the numbers that count in a democracy," he said in a Nov. 2 interview. "I can tell you after the Biharelections, numbers will improve."
Before it's here, it's on the Bloomberg Terminal.
LEARN MORE