German Factory Orders Unexpectedly Decline for Third Month
Demand falls 1.7% in September versus estimated 1% increase

Slump exaggerated by drop in bulk orders, ministry says
German factory orders unexpectedly extended a series of declines in September amid a slump in demand for investment goods in the euro area, highlighting increasing risks for Europe's largest economy.
Orders, adjusted for seasonal swings and inflation, fell 1.7 percent from August, when they dropped 1.8 percent, data from the Economy Ministry in Berlin showed on Thursday. That's the third consecutive decrease and compares with a median estimate of a 1 percent gain in a Bloomberg survey. Orders declined 1 percent from a year earlier.
The Bundesbank said last month that an upward trend in economic activity in Germany continued in the third quarter, albeit less dynamically. While business confidence as measured by the Ifo institute fell in October for the first time in four months in response to weakening global trade, the slowdown in China in itself should only have a modest impact on the euro-area economy, according to the European Central Bank.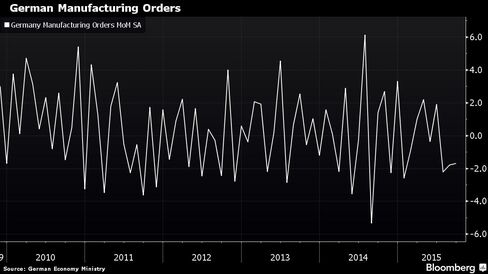 "The fact that new orders have dropped for three consecutive months suggests that our positive take on the German industry got some scratches," said Carsten Brzeski, chief economist at ING-Diba AG in Frankfurt. "At the moment, strong domestic demand should more than offset the weakening of industrial activity but today's data suggest that the industry should be prepared for stormier weather."
The euro extended its decline after the report and traded at $1.0844 at 8:37 a.m. Frankfurt time.
Germany's VCI chemical and pharmaceutical lobby group abandoned a forecast for growth in sales this year, saying that revenue declined in almost all regions of the world in the third quarter. Sales in the industry will stagnate at about 191 billion euros ($207 billion), the Frankfurt-based association said in an e-mailed statement on Tuesday.
Fuchs Petrolub SE, the world's largest independent lubricants supplier, said it will only meet this year's targets with the help of acquisitions and favorable currency moves. Steel trader Kloeckner & Co. SE is closing or selling sites in France and the U.S. and cutting jobs as it tries to counter the effects of falling steel prices. Profit slid 54 percent in the third quarter.
Factory orders dropped 2.8 percent in the third quarter from the previous one, according to the report. Demand from within the country increased 0.3 percent and was up 0.9 percent for the euro area. Non-euro-area orders fell 8.6 percent in the July-to-September period.
In September, orders for investment goods from the euro area fell 12.8 percent, reflecting a drop in demand for big-ticket items. Excluding bulk orders, demand fell 0.4 percent.
"Manufacturing orders are experiencing a hard time at the moment, which relates primarily to weak demand from outside the euro area," the ministry said in the statement. "Domestic demand and from within the euro area continue to point moderately upward and supports manufacturing. Sentiment in the industry remains good."