Winters's Overhaul of Standard Chartered Sparks Fitch Downgrade
Rating firm cuts credit grade one notch to A+ from AA-

Fitch cites poor `profitability and asset quality trends'
Fitch Ratings downgraded Standard Chartered Plc, citing "unfavorable profitability and asset quality trends," two days after the lender unveiled plans to tap investors for $5.1 billion, eliminate thousands of jobs and cut risky assets across Asia.
While Chief Executive Officer Bill Winters's measures to restructure the lender and boost its capital buffer "address several aspects" that had previously been considered "negative rating factors," implementing the plan "could be challenged by headwinds from further downturn in the credit cycle as well as high management and staff turnover," Fitch said in a statement. The ratings firm on Thursday cut the lender's credit rating one grade to A+ from AA-, with a negative outlook.
Winters, who took over in June, on Tuesday unveiled 15,000 job losses to help save $2.9 billion by 2018, with the bank scrapping the second-half dividend. Standard Chartered will also restructure or exit $100 billion of assets and reduce its riskiest lending in Asia after loan impairments surged. The bank that day reported an unexpected third-quarter loss of $139 million, compared with a profit of $1.5 billion a year earlier.
'Difficult Environment'
"Impaired loan ratios remain above peers' and appear to have become more volatile as a result of concentrated sector and country exposure. ," Fitch said. "Standard Chartered remains vulnerable to volatility from a difficult operating and regulatory environment."
The shares extended declines, dropping 4.4 percent to 639.50 pence at 12:24 p.m. in London. They've dropped about 34 percent this year.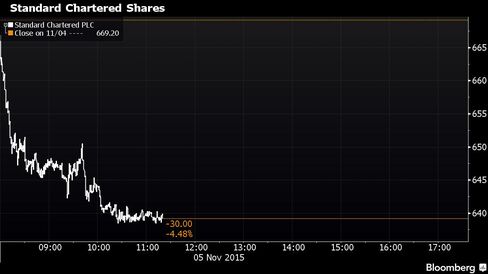 Standard Chartered's A+ rating compares with Fitch's AA- grade for HSBC Holdings Plc, one step higher, and A ratings at Barclays Plc and Citigroup Inc., one step lower, according to data compiled by Bloomberg.
Standard Chartered's "ratings may be downgraded if the bank fails to strengthen earnings and reduce risks or if loan quality deterioration accelerated undermining its capital strength," Fitch said. "Outsized fines or material business restrictions from litigation could also lead to a downgrade."
The ratings company said it would upgrade the outlook to stable if Standard Chartered "demonstrated it can implement the new strategy successfully resulting in a leaner organization."
Stress Tests
British banks are under pressure to raise their capital buffers ahead of a second round of stress tests that will focus on lenders' emerging-markets exposure and vulnerability to swings in commodity prices. The Bank of England will publish results on Dec. 1.
Standard Chartered will probably issue an Additional Tier 1 security "before too long as market conditions allow," Chief Financial Officer Andy Halford told analysts on Tuesday. AT1s are the riskiest form of bank debt that automatically convert into equity if core capital falls below a pre-specified level.
"They need to sort out their capital raise first," said Jakub Lichwa, credit analyst at Daiwa Capital Markets in London. "Issuing AT1 before the outcome of the PRA's stress tests and before the rights issue, immediately after posting a quarterly loss, would not gather sufficient demand at a competitive level."
Before it's here, it's on the Bloomberg Terminal.
LEARN MORE