EDF Drops Most in 16 Months as Lower Power Prices Curb Sales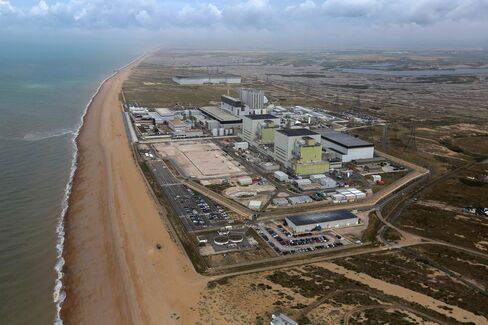 French utility is worst performer in Stoxx 600 Utilities index

Management confirms annual forecasts for earnings, dividends
Electricite de France SA slumped the most in 16 months in Paris trading after saying weaker power prices damped sales in the first nine months of the year.
EDF fell as much as 7.7 percent on Thursday, the biggest decline since June 19, 2014, and was down 7.4 percent at 4:33 p.m. local time, making it the worst performer in the Stoxx 600 Utilities index. Revenue of 53.8 billion euros ($58.5 billion) was down 2.1 percent on a like-for-like basis -- at constant exchange rates and excluding acquisitions and asset sales.
EDF suffered a "challenging power-price environment in Europe," the region's biggest electricity producer said in a statement, citing lower prices in the U.K., France and Italy. The shares traded at 16.13 euros, extending their decline this year to 29 percent.
As well as sliding electricity prices, multiple financial commitments have weighed on EDF's stock.
The state-controlled utility unveiled a plan in July to rescue fellow French power company Areva SA by taking control of its reactor business. It also needs to spend 55 billion euros in 10 years to renovate its aging fleet of French reactors, absorb increased construction costs at a plant in Normandy and expand in renewables. In the U.K., it's studying a project to build two reactors with a Chinese partner at a cost of 18 billion pounds ($27.7 billion).
Annual Outlook
EDF confirmed full-year forecasts for earnings, debt-to-equity and dividends. The Paris-based company also reiterated plans for positive free cash flow after dividends in 2018. It has the "key anchor points" to reach that target though lower prices make it "tougher to achieve compared to one year ago," Chief Financial Officer Thomas Piquemal said on a conference call.
The utility plans to pay an interim dividend of 57 euro cents a share and will give investors the option to receive the payout in new stock. It follows other energy companies including French oil producer Total SA in offering a so-called scrip dividend, which helps companies save cash amid the slump in commodity prices.
EDF's decision "reflects the challenges faced by the group in terms of leverage and cash flow in a context of a challenging operating environment and pressure on profitability," Emmanuel Turpin, an analyst at Morgan Stanley in London, said in a research note.
Margin Hurt
EDF Trading's gross margin fell 19 percent in the nine-month period on a like-for-like basis, the company said, citing lower price volatility in Europe and lower activity in North America.
"The group's exposure to market prices has strongly increased since the beginning of the year to the detriment of the margin," Xavier Caroen, an analyst at Bryan Garnier & Co. in Paris, said in a note. "2015 and 2018 targets were reiterated yet with limited details on how the group will be able to achieve them."
EDF expects like-for-like growth of as much as 3 percent in earnings before interest, taxes, depreciation and amortization this year. In the first nine months, French nuclear output rose 1.2 terawatt-hours to 306.3 terawatt-hours and will be at the upper end of a 410-to-415 terawatt-hour forecast for 2015, it said.
The company owns France's power-transmission operator, RTE, and has placed half of its RTE shares in a fund dedicated to financing future nuclear-plant decommissioning. EDF said Thursday it will be involved in "establishing a strategic plan" for the grid operator, whose long-term assets have gained in value amid low interest rates. "This is not at all reflected in our dedicated asset portfolio value," Piquemal said.
Before it's here, it's on the Bloomberg Terminal.
LEARN MORE