Blast Clues May Signal End to Decade of Foiled Jet-Bomb Plots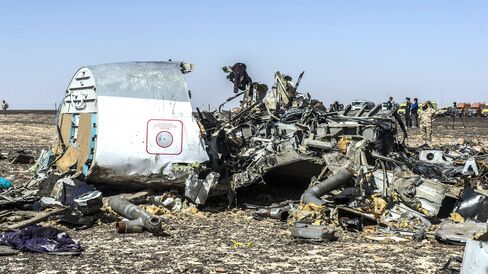 Thwarted schemes didn't ease concerns ahead of Egyptian crash

Checkpoints remain a risk: `I've been worrying about this'
For more than a decade, terrorists tried and failed to bring down jetliners with explosives in carry-on liquids, in air freight and even in their underwear.
That interlude may be over as U.S. and U.K. officials cite growing suspicions that a bomb destroyed a Russian airliner over Egypt on Saturday. It's a reminder, security specialists say, that despite tighter and more invasive passenger screening, a determined attacker can still smuggle in a device capable of blowing a plane out of the sky.
"I've been worrying about this," said Hans Weber, president of aviation consultant Tecop International Inc. While airport X-ray systems can differentiate between metal and organic material, inspectors must still find other clues such as detonators and wires, making it difficult "to prevent anybody from taking an explosive on board in his carry-on luggage."
Other governments, including Russia's, warned that any conclusions are premature as investigators sift through wreckage, flight data and voice recorders to determine what caused the crash of the Airbus Group SE A321 operated by Russian carrier Metrojet. Other causes such as structural failure also could explain how the plane broke into pieces and fell into the desert, killing all 224 people aboard.
Leading Theory
Three U.S. officials speaking on condition of anonymity said terrorism was the leading theory in the case. Preliminary evidence suggested Islamic State involvement and investigators were examining the prospect that someone -- perhaps a baggage handler or airline official -- was bribed to get a bomb on the plane, two of the officials said.
Members of Islamic State -- which claimed responsibility via people who purported to represent the militant group -- wouldn't have needed a state-of-the-art weapon if they had sympathizers with access to planes at Egypt's Sharm el-Sheikh airport, where the flight originated.
"It would be unlikely that some new innovative kind of explosive device was actually created," said Richard Bloom, director of terrorism, intelligence and security at Embry-Riddle Aeronautical University in Prescott, Arizona. "You really don't need technology. It's much more likely by having a relationship with people."
A bombing, if proven, would renew focus on security risks at airport checkpoints that have persisted since the 2001 terrorist attacks. So-called shoe bomber Richard Reid made it on an American Airlines jet and tried unsuccessfully to set off explosives in his high-top sneakers just months after hijackers destroyed the World Trade Center and damaged the Pentagon on September 11.
'How Alert'
"Where do you get a well-trained inspector? How alert are they?" said Weber, the consultant. "This is a weakness across the board internationally."
While bombs aboard civilian aircraft date to the early days of passenger flying in the 1930s, recent terrorist efforts have been notable for their lack of success.
In 2006, U.K. police claimed they had foiled a plot to down trans-Atlantic jetliners with liquid explosives, and in 2009 passengers on a Delta Air Lines Inc. plane thwarted a would-be bomber who tried to ignite explosives in his undergarments. In 2010, two bombs were intercepted en route to the U.S. from Yemen on jet freighters.
The most recent successful airliner-bomb attacks occurred in 2004, when two Russian passenger aircraft explosions were linked to Chechen rebels, Embry-Riddle's Bloom said.
It would be difficult for terrorists to grab and deploy military anti-aircraft missiles able to hit a jetliner at cruising altitude, but even a small explosion inside the fuselage could trigger decompression strong enough to rip a plane apart.
A bomb attack "would be not that far-fetched," said Mokhtar Awad, an analyst at the Center for American Progress, a research institute in Washington.
Once the wreckage is examined closely, the telltale markers of an explosive device will be relatively easy to spot, according to John Purvis, who used to head Boeing Co.'s accident investigations unit and was part of the probe into the destruction of Pan Am Flight 103 over Lockerbie, Scotland in 1988.
"The evidence of a bomb, for those that are trained, is pretty clear," Purvis said.
Before it's here, it's on the Bloomberg Terminal.
LEARN MORE