Car Reviews
The Bentley Continental GT V8 S Is a Two-Door Tour de Force
It's not a buzzy sports car or a stately sedan—it's better than both.
The 2016 Bentley Continental GT S is a two-door coupe with 521 horsepower and a 4.3-second sprint to 60 mph.
But don't call it a sports car.
It's too big (190 inches long) and too heavy (6,000+ pounds) and, with that darkened grille and hips clenched like the fists of a boxing champ, too generally imposing for that.
Rather, it deserves strong consideration as something you can use every day—you won't get driver's fatigue, and your considerable style will not be cramped. (There's plenty of leg room.)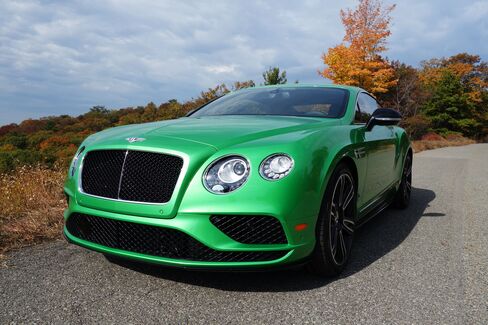 Along with such competitors as the (pricier, more opulent) Rolls-Royce Wraith or the (slinkier, faster) Mercedes-Benz S63AMG Coupe, the GT S is the dark Saville Row suit that you can sport from your afternoon board meeting into your evening obligation at Jean-Georges, without so much as a stutter step.
Refreshed Touring
Bentley introduced the GT in 2003 as the touring version of its best-selling Continental coupe. (The GT stands for Grand Tourer, as you might guess; the S doesn't stand for anything per se but is meant to symbolize a generally enhanced driving appeal.) The marque unveiled a total second-generation version in 2011. Next year's model features light changes from the 2015—chrome fender badges, reshaped front bumper, new instrument dials, enhanced stability control—that are like a quick hem-tuck and seam-tightening of a favorite coat. The updates are refreshing, not revolutionary.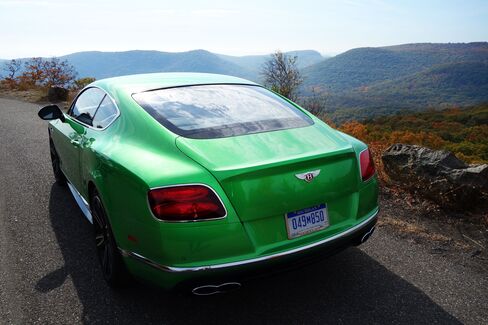 I drove a $256,545 Apple Green version for a week around New York, including a long day spent upstate canvassing the considerable curves of Bear Mountain State Park. This one cost a lot more than the $210,700 base price Bentley has set for this 4.0-liter V8, but I suspect it's closer to the actual price most people pay for their Continental. That's because such options as extra-deep matting ($425), sports exhaust ($2,580), ventilated front seats with massagers ($2,840), and adaptive cruise control ($7,595) make the whole endeavor more fun to drive and personalized to own. If you're in the market for a major car, expect to go deep in upgrade territory. It's going to be difficult to resist.
Even that Apple Green paint costs $5,700 extra, which isn't really too much of a problem, is it? When you spend a quarter of a million on a car, 5 Gs have as much of an impact on your bank account as a small pothole has on this baby's air-ride suspension. But then, you already knew that. I will say that it was tough for me to fathom who would choose this shrieking hue—even if it came for free—but it does have some camouflage-redeeming qualities if you drive it on tree-lined roads or, I guess, among tall plains grasses. I'd rather spend my extra cash on Bentley's famous custom program that color matches exterior paint to, for example, a handsome pair of Berluti loafers. You're going to get plenty of notice in this car; there's no need to amplify the effect.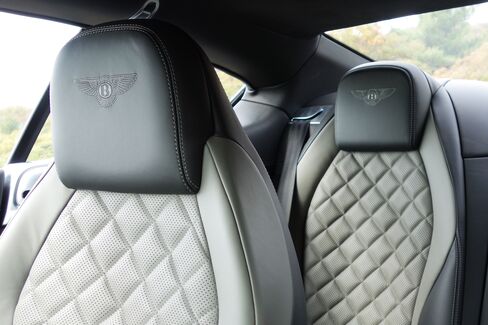 Eager and Elegant
This is not to say that the folks in Crewe don't include plenty in that initial price tag. Standard on the new GT S are 20-inch, open-spoke alloy wheels, iron brakes with red calipers, bi-xenon and LED headlights, fantastic new Bentley "B"s along the fender vents, and the famous knurled gear shifters that feel as comfortable in your grasp as the shoulder of a friend.
The car retains the aesthetic demeanor of Daniel Craig's James Bond—well-dressed but unpretty enough in the face and broad enough in the shoulders to communicate that he'll brawl if he has to. And has done so plenty of times before. He's a man whom both gentlemen and ladies admire.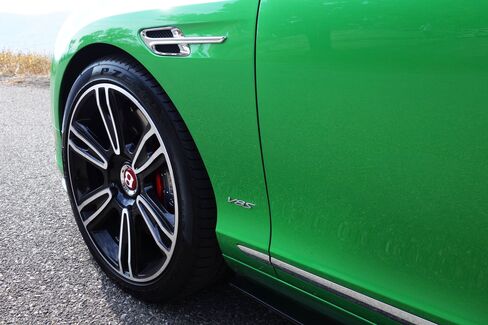 Inside, Bentley has added a redesigned three-spoke steering wheel with thicker paddle-shift gear selectors than in previous models. The 11 Naim-sound speakers and 8-inch touch screen that controls mapping, traffic, Bluetooth and (optional) Wi-Fi enhance the feeling that you're in a modern touring machine, but it's the tiny diamond stitching on the ergonomic seats, carbon fiber trim, brushed steel accents, and two-tone leather scheme (porpoise and beluga on mine) that you'll probably notice first and remember later. (All Bentley wood veneers are cured for 72 hours and treated by hand with five layers of clear lacquer to enhance their natural luminosity; the elegant Piano Black veneer comes standard.)
The back of the front seats have cutouts in the shape of knees to give even more room in the back for adult-size legs. Although I must say, I texted a picture of the backseat to a friend who had asked to use the car to see some fall foliage. He viewed the image and changed plans.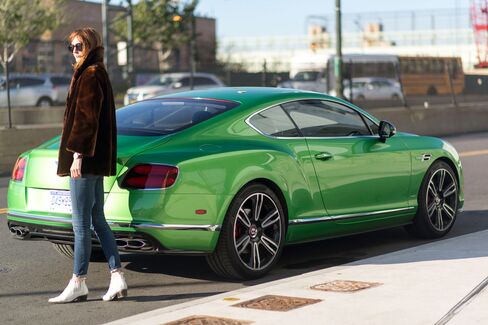 Safe in the Lap of Luxury
That's too bad, because I would have let him sit in the front seat for a bit, where you can appreciate the considerable power and succulence this V8 has to offer, even if you're not behind the wheel.
Driving the GT S feels easy, controlled, safe. In this car you feel protected—from noise, from inclement weather, from potholes and obnoxious drivers. From the driver's seat, the commander effect is manifold: The V8 S has the best steering and response of any in the Continental range, and it sits considerably higher than such sports cars as a McLaren 650S or a Porsche 911. Here, more than anywhere else, it feels like a proper sedan. Similarly, Bentley's technologically advanced air suspension levels the car expertly around corners and though inclined accelerations; to reduce vibration, its hydraulic engine mounts switch from "soft" while the car is idling to "hard" when you accelerate, which reduces roll at high speeds. The eight-speed ZF automatic gearbox operates with the stealth of early morning fog. Top speed is 192 mph.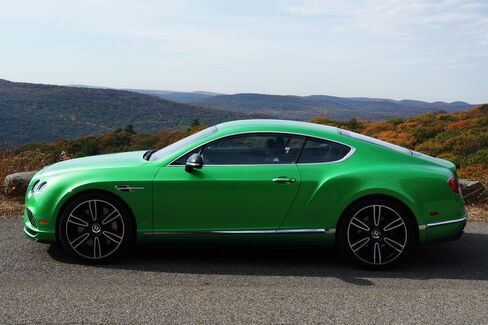 In less-than-top-speed settings, the engine shuts off four of its cylinders to increase efficiency. You barely notice it, and the effort ekes out 25 mpg on the highway (15 mpg in the city), which is roughly 4 mpg combined more than the W12 engine but still, ahem, thirsty. The need for fuel translates as more of an annoyance for people taking this car long distances than a financial concern—there's that pothole again—but it's worth noting.
Also I should say, as I'm sure you already know, that while the steering here is startlingly deft for a machine of this heft, it does not quite equal the laser precision of the excellent Mercedes AMG GT I drove the week prior. It's a mismatched comparison, to be sure, but one that illustrates the difference between a tourer and a proper sports car. The GT S is not something for whipping around like a toy.
It's much more substantial than that. I wouldn't have it any other way.
Before it's here, it's on the Bloomberg Terminal.
LEARN MORE