Xi Arrives to Woo Vietnam Comrades and Reverse Drift to U.S.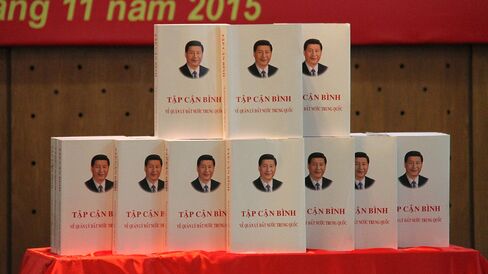 Chinese leader makes state visit amid South China Sea tensions

Rare protest outside Chinese consulate ahead of his arrival
When President Xi Jinping lays a wreath at the hulking Ho Chi Minh Mausoleum in Hanoi this week, he'll be reminding Vietnam of the country's shared communist lineage and Cold War partnership battling the U.S.
Xi's visit Thursday -- the first by a Chinese president in a decade -- will emphasize growing economic bonds between the neighbors, with China accounting for one-fifth of Vietnam's trade last year, up from 12 percent in 2005. He'll also face a public wary of China's growing influence and its assertiveness in the South China Sea that's exacerbating a decades-long spat over territory, fishing grounds and drilling rights. Only 19 percent of Vietnamese hold favorable views on China, a Pew Research Center poll shows.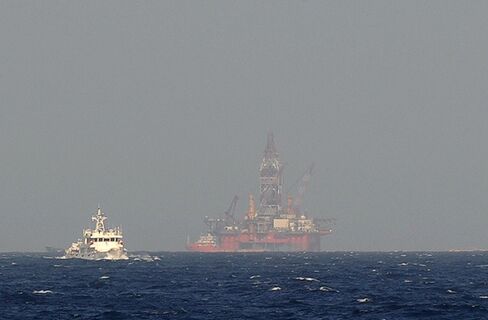 "They bully us at sea and want to take our islands," university student Tran Hoang Nam, 21, said Monday, while strolling past the granite monument to Vietnam's patriarch. "They sell us fake products and toxic food. So, we have to be very cautious when dealing with this so-called good friend."
The two-day state visit comes at a time of change in both Vietnam's government and its relations abroad, and Xi will be looking to shore up China's position on both fronts. A planned leadership transition in the ruling Communist Party of Vietnam next year could see China critics gain more power. Meanwhile, Hanoi has drifted increasingly toward its former foes in Washington, signing defense cooperation pacts and joining the U.S.-led Trans Pacific Partnership trade deal.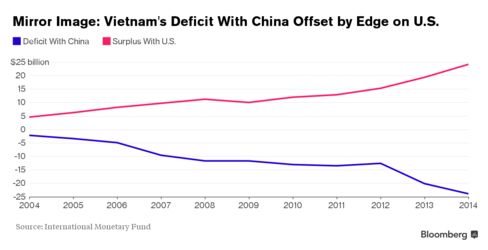 Vietnamese Communist Party chief Nguyen Phu Trong made an unprecedented visit to the White House in July, prompting President Barack Obama to pledge a return trip "soon." Although no plans have been announced, Obama will be in the region this month for the Asia-Pacific Economic Cooperation conference.
"Xi wants to show Vietnam that its relationship with China is more important than that of any other country, especially the U.S.," said Nguyen Manh Hung, professor emeritus at George Mason University in Virginia. "He wants to show Vietnam, you need me and you don't want to make me angry. The Vietnamese can't totally ignore Chinese pressure."
Ideological Ties

Xi arrived in the Vietnamese capital just before noon Thursday. Before his plane touched down, police in Ho Chi Minh City, about 1,200 kilometers (720 miles) to the south, blocked 80 to 100 protesters from marching on the local Chinese consulate, according to two people who said they participated. Some of the protesters, who were carrying signs urging Xi to "go away," were beaten and detained, the people said. Local police declined to comment when reached by phone.
Xi will be visiting as head of the world's largest Communist party, as well as president, and will address Vietnam's National Assembly on Friday. He's expected to highlight economic and ideological links and avoid discussion of disagreements, said Le Hong Hiep, a lecturer at Vietnam National University in Ho Chi Minh City. The Bank of China is prepared to finance Vietnamese infrastructure projects to help forge closer relations between Vietnam and China, the official Xinhua News Agency reported Nov. 3.
"This is not just a state visit, but also a party-to-party visit to weigh in on Vietnam's politics," said Zachary Abuza, a professor at the National War College in Washington. "The Chinese are very concerned you are going to get a group of people in power who are much more predisposed to improving ties and economic relations with the U.S."
Military Conflict
Vietnam and China fought a brief border war in 1979 and have clashed over control of the Paracel and Spratly island chains. Last year, China placed an oil rig in waters near the Paracels, which China seized in 1974, triggering confrontations between Vietnamese and Chinese boats and deadly anti-Chinese riots in Vietnam.
"On some occasions, it's been one step from war," said Zhang Mingliang, a specialist in Sino-Vietnamese relations at Jinan University in Guangzhou. "The territorial disputes have become a dominating factor in the bilateral relations over the past few years, and almost overshadowed other aspects."
China claims more than 80 percent of the South China Sea based on a nine-dash line drawn on a 1947 map for which it gives no precise coordinates. Vietnam has said it is considering taking legal action against its neighbor, after the Philippines lodged a similar complaint with an international arbitration tribunal in the Hague.
The territorial spats have stoked historical animosity going back hundreds of years to when Chinese emperors ruled the area as part of their broader empire. A Facebook petition signed by 170 activists last month called on Hanoi to rescind Xi's invitation.
'Love-Hate'
Exchanges such as Xi's trip bear "witness to the two neighbors' will and ability to properly manage their differences," Xinhua said in a commentary published Thursday. Both sides must not let "parochial and ill-intended views to go unchecked and mislead the public opinion toward the unfathomable abyss of confrontation," it said.
China has over the years sought to play down disputes and stress economic and cultural ties during visits with Vietnamese leaders. Xi, like his predecessors, Hu Jintao and Jiang Zemin, is planning to meet representatives of Vietnamese young people on this trip.
"Chinese leaders long ago realized that to secure long-term stability in bilateral ties, a key factor and challenge is to win over the hearts and minds of the Vietnamese young people," said Shen Shishun, a senior researcher at the China Institute of International Studies. "This is an uphill battle to say the least."
Views toward the U.S. are overwhelmingly positive, with 78 percent of Vietnamese reporting favorable opinions of the country, according to Pew. When the USS Fitzgerald and USS Fort Worth warships visited the one-time American military hub of Danang in April, local officials posed with U.S. Navy officers in dress whites. At the same time, the local government has banned the G.I.s' nickname for nearby "China Beach" because it conveys the "wrong information."
"The Vietnamese have had many years of a love-hate relationship with China," said Hung, of George Mason University. "In the thousand years of Vietnamese-Chinese relationship, it's been more hate than love."
Before it's here, it's on the Bloomberg Terminal.
LEARN MORE