Rajan Sees Rupee as Investment Currency; Dollar Debt Curbed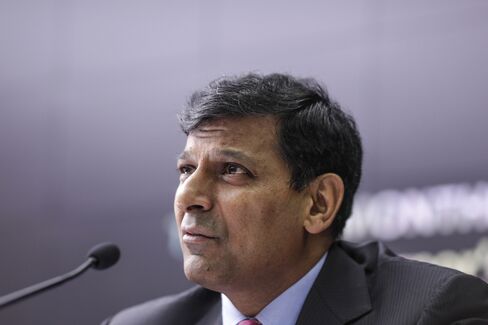 Monetary policy `just right' to reach 2017 inflation target

Investors now less convinced dollar borrowing a one-way bet
India's central bank Governor Raghuram Rajan hailed prospects for deepening his nation's debt market and cited diminishing dollar borrowing that would help reduce vulnerability should the U.S. currency climb.
"There are lots of people elsewhere who want to buy rupee bonds because of higher rupee interest rates and greater confidence in Indian inflation prospects, bolstered by our new inflation targeting framework," Rajan, 52, said in an interview at the Reserve Bank of India headquarters in Mumbai on Tuesday. "I think that the rupee will become more attractive as an investment currency," he said, adding that the central bank is trying to encourage corporate borrowing abroad in rupees.
Developing the market for borrowing in rupees would strengthen India's resilience as emerging markets face volatility from the Federal Reserve's preparations for the first U.S. interest-rate increase since 2006. Rajan expressed confidence he can reach a 5 percent inflation target by March 2017, calling the current monetary stance "just right."
Rajan has taken a series of steps to address risks since taking office a little more than two years ago, including boosting foreign-exchange reserves to record levels and opening the government bond market to greater foreign investment. In February, he warned Indian firms against borrowing in dollars, likening it to "Russian roulette." Any plunge in the rupee would make it tougher for Indian borrowers to pay back the debt.
The rupee extended gains after Rajan's comments. The currency rose as much as 0.2 percent to 65.5260 a dollar as of 11:35 a.m. in Mumbai, strengthening for the first time in three days. Dollar-based investors stand to earn about 6 percent on rupee purchases held through September 2016, the third-highest returns among 22 emerging-market currencies tracked by Bloomberg.
'Down Significantly'
Rajan said recent exchange-rate volatility prompted a more cautious approach. The rupee's one-month volatility surged to a 15-month high of 9.74 percent in August as the currency fell 3.5 percent in the same month. The rupee has declined about 4 percent this year along with other Asian currencies.
"External corporate borrowing has come down significantly this year," said Rajan, a former International Monetary Fund chief economist. "And maybe people are now less convinced that borrowing in dollars is a one way bet."
Indian companies had hedged about 39 percent of their foreign-currency exposure in the year to March 2015, up from 15 percent in the previous year, central bank Deputy Governor H.R. Khan said in August. That rose to nearly 41 percent in the three months to June.
Policy 'Just Right'
"Taking on external debt depends on interest rates, and with the environment hardening overseas while rates come down domestically, I see the appetite diminishing," said Madan Sabnavis, chief economist at CARE Ratings Ltd. in Mumbai. He expects the exchange rate to hover in the range of 64-66 rupees to the dollar.
Rajan cut interest rates four times this year to 6.75 percent as falling commodity prices and government measures to tame food costs helped keep inflation in check despite a second straight below-par monsoon.
Consumer price inflation, once base effects are taken out, is about 5 to 5.5 percent at the moment, below a 6 percent goal for January 2016, according to Rajan. His attention has now shifted to the 5 percent target of 2017.
"We think we can reach there with our current monetary stance," Rajan said. "Of course if there are positive surprises, much lower oil prices or commodity prices, or adverse surprises, we will have to rethink whether our stance is appropriate, but I think right now we're just right."
Before it's here, it's on the Bloomberg Terminal.
LEARN MORE