Nestle to Resume India Maggi Sales as Lead Tests Clear Noodles
Company has suspended noodle sales in India since early June

Nestle India shares rally after labs cleared products
Nestle India Ltd. plans to start sales of its iconic Maggi noodles later this month as samples tested at three government-accredited laboratories found that the lead content of the products were below acceptable limits. The stock rallied.
The successful test results meet the requirements set forth by the Bombay High Court for the company to restart sales, Nestle SA's Indian unit said today in an e-mailed statement. Nestle is working with authorities to get the necessary permissions and expects to start sales before the end of this month, it said.
Today's announcement marks the end of a crisis for Nestle, which was ordered to remove its most popular product -- the Maggi instant noodles -- from store shelves across India. The problem, which originated with a lone food inspector reporting exceptionally high lead levels in a noodle packet, snowballed into a controversy leading the nation's food regulator to ban Maggi sales nationwide.
Nestle later took the food regulator to court over the decision, and won the challenge, with the court allowing the company to resume sales if tests done at a certified laboratory were found to be acceptable.
Nestle India shares rallied after the announcement, rising as much as 4.2 percent at 6,479 rupees. The stock traded at 0.6 percent higher as of 3.10 p.m. local time.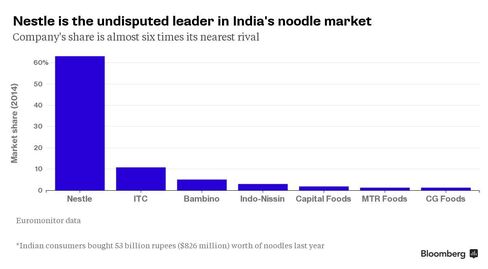 Consumer goods companies in India distribute their products to retailers and mom-and-pop shops through a network of middlemen known as distributors, each of which oversees a portion of a city. Nestle told its distributors to expect shipments of Maggi noodles as early as Nov. 10, Rajesh Kundra, a distributor in Amritsar in Punjab said Monday.
Instant noodles constitutes about 30 percent of Nestle's Indian sales, and not being able to sell it together with the cost of recalling stocks from retailers all over the country led the unit to report its first quarterly loss in at least 15 years in July. Maggi noodles have been sold in India for the past three decades and Nestle dominates the local market with a 63 percent share in 2014, six times more than its nearest rival ITC Ltd., according to Euromonitor data.
Before it's here, it's on the Bloomberg Terminal.
LEARN MORE