Iran Comes to Rescue of Indian Rice Farmers as Curbs Eased
Basmati rice prices tumbled more than 50 percent in two years

Iran expected to issue new rice import licenses by January
Rice farmers and mills in India are banking on Iran to end a two-year slump in prices.
Iran's decision to end curbs on imports is set to boost demand for basmati rice, the aromatic grain used in biryani and pilaf dishes, and send its prices soaring, according to KRBL Ltd., a rice miller and exporter based at Noida, near New Delhi. Exports to Iran may increase for the first time in two years, the company said.
Basmati rice prices plunged more than 50 percent in the past two years after Iran cut purchases and Indian farmers boosted planting. The easing of international trade sanctions on Iran sees the country having access to more supplies at a time when Thailand is looking to dispose of its near-record state stockpiles. The scrapping of the import ban, imposed to protect domestic farmers during the harvest, may lead to fresh purchases, according to the All India Rice Exporters Association.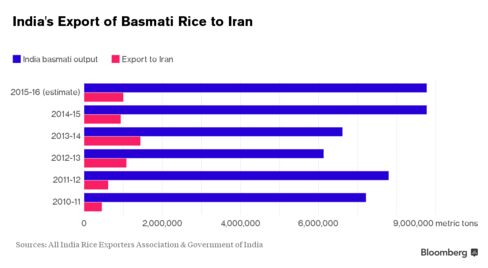 "Basmati rice prices will increase in the domestic market and overseas buyers will also need to increase their offers," Anil Kumar Mittal, KRBL's chairman, said by phone on Tuesday. "Looking at our prices, Iran will increase its purchases."
Plunging Prices
Prices of some basmati rice in India slumped to about $700 a ton from as high as $1,600 a ton in 2013 as Iran reduced imports, said Mittal, who has been trading rice for three decades at the family-owned company founded in 1889. Iranians will prefer Indian basmati rice over white rice from the U.S., he said.
Indian basmati rice exports to Iran dropped 35 percent to 935,567 tons in 2014-15 and Saudi Arabia replaced it as the largest buyer. Iran's total rice imports are seen at 1.6 million tons in 2015-16, up from 1.5 million tons a year earlier, according to U.S. Department of Agriculture data.
Iran will probably issue new import licenses in December or January, according to R. Sundaresan, executive director of the All India Rice Exporters Association. Exports may climb 6.9 percent to about 1 million tons in the year through March, Mittal said.
India is the world's largest exporter of basmati rice and ships half of its output of about 8.7 million tons to countries including Iran, Saudi Arabia, United Arab Emirates and Iraq. Basmati rice, preferred over other varieties for its length, aroma, taste and texture after cooking, is mainly grown in India and Pakistan.
KRBL and other mills retailing packaged rice in India will be able to increase prices and that'll boost their profit, Mittal said. Shares of KRBL and LT Foods Ltd. have more than doubled this year, while Kohinoor Foods Ltd. jumped 16 percent, on prospects of better earnings.
Before it's here, it's on the Bloomberg Terminal.
LEARN MORE