China is poised to become the biggest U.S. trading partner this year, eclipsing Canada for the first time as the slump in oil prices reduces the value of energy exports for America's neighbor to the north.
Trade in goods with China reached $441.6 billion this year through September, exceeding the $438.1 billion balance with Canada for the first time in U.S. Commerce Department data going back to 1985. Figures published Wednesday also showed that the U.S. trade shortfall with China is now at an all-time high, fueled by record imports.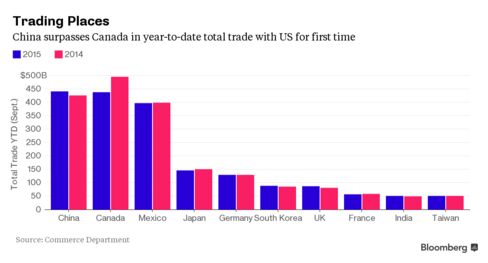 Crude oil is among Canada's biggest exports, and its price has collapsed to about half of its 2014 peak. That's helped send the value of its trade with the U.S. so far in 2015 down 11.6 percent from the same time last year even as the world's biggest economy buys more barrels.
"It's completely an oil story," said Jacob Oubina, senior U.S. economist at RBC Capital Markets LLC in New York. "In nominal terms, yes, the trade with China overtakes Canada, but in real terms, it's very different. It's not economic activity or output. It's a price story all the way."
In September, the U.S. imported 101.3 million barrels of crude oil from Canada, the most this year and the second-highest level in records going back to 2010, according to data from the Census Bureau. However, the $3.9 billion customs value of those imports was the second-lowest.
Meanwhile, as other emerging markets struggle to accelerate, China is increasingly dependent on U.S. consumers buying its goods. Total trade this year with China is up 3.7 percent from the same nine months in 2014.
Before it's here, it's on the Bloomberg Terminal.
LEARN MORE