Standard Chartered Drops as CEO Raises Capital, Cuts 15,000 Jobs
Bank to raise $5.1 billion from investors as impairments soar

Bank has third-quarter loss of $139 million, missing estimates
Standard Chartered Plc dropped the most in more than three years after the lender said it plans to eliminate 17 percent of its workforce, scrap the dividend and tap investors for $5.1 billion as Chief Executive Officer Bill Winters seeks to restore profit growth.
The bank unveiled 15,000 job losses to help save $2.9 billion by 2018, according to a statement Tuesday. Standard Chartered will also restructure or exit $100 billion of assets after it reported an unexpected third-quarter loss of $139 million, compared with a profit of $1.5 billion a year earlier. Winters scrapped the bank's dividend for the second half, the first such move since at least 1988, to save about $700 million.
Winters, 54, is seeking to reverse damage caused by predecessor Peter Sands's revenue-driven expansion across emerging markets, which left the bank saddled with bad loans when commodity prices slumped and economies from China to India cooled. Under Sands, total assets at the bank more than doubled to $726 billion at the end of last year from 2006, with the bank using two previous rights issues to fund its growth in Asia.
'Too Rash, Too Quick'
"In hindsight you can say their expansion was too rash, too quick, but at the time it was seen as them taking advantage of being one of the last banks standing after the crisis," said Christopher Wheeler, an analyst at Atlantic Equities in London. "However, it turns out the markets they grew in are now under siege and their core businesses are increasingly competitive."
Standard Chartered shares fell as much as 11.3 percent, the biggest drop since August 2012. They closed at 666 pence in London, down 6.7 percent.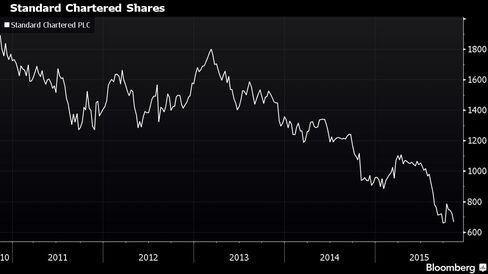 The sweeping job cuts, part of creating a "simplified" structure, are on a gross basis, Standard Chartered said. The London-based lender had about 86,000 employees at the end of June. Under former CEO Sands, who presided over a decade of growth uninterrupted even by the global financial crisis, the bank ruled out a capital increase, instead focusing on cost cuts.
"Standard Chartered's ability to slim down its cost base remains in question," said Jonathan Tyce, senior banks analyst at Bloomberg Intelligence. "The destabilizing effects of restructuring and job losses could impair revenue beyond current expectations."
Stress Tests
Standard Chartered is seeking to bolster its capital buffer ahead of a tougher round of stress tests on Dec. 1 as the Bank of England turns its focus on mounting risks abroad. The central bank will assess the resilience of seven U.K. lenders against a slump in the Chinese economy, a drop in oil prices and a prolonged period of deflation, with some analysts predicting a capital gap of as much as $10 billion.
"The timing is just about right," Winters said, when commenting on the capital increase. The CEO said he didn't move faster, despite the shares falling 39 percent since he started June 10, because he "didn't want to have a half-baked strategy," he added.
The two-for-seven rights issue offered at 465 pence per share will boost the lender's common-equity Tier-1 capital ratio to 13.1 percent from 11.5 percent as of June 30, the bank said. Temasek Holdings Pte, the largest shareholder, will take up rights for 15.8 percent of the firm's existing share capital, according to the statement.
The bank had previously raised capital in 2008 and 2010 to help fund an expansion. The latest rights issue is fully underwritten by JPMorgan Chase & Co. and Bank of America Corp.
'Right Steps'
Besides strengthening the balance sheet, the capital raising will help fund a planned $3 billion investment over three years into "strategic opportunities," technology and upgrading regulatory and compliance systems, the lender said.
"Standard Chartered's management is taking the right steps to address the bank's problems," said Hugh Young, Asia managing director of Aberdeen Asset Management Plc, which is the bank's second-largest stakeholder. "The plan outlined seems sensible and it is clear where the bank now wishes to focus its business. We have been encouraging the bank to put its capital position beyond doubt, so we are supportive of the rights issue."
On the first day in the job, Winters pledged to strengthen Standard Chartered's "financial position and re-orient the bank for better returns on capital." A month later, the former co-head of JPMorgan's investment bank appointed a new management team reporting directly to him to speed up cost cuts.
'Kitchen Sinking'
"It may be that this kitchen sinking prepares the ground for a real turnaround," said Richard Hunter, head of equities at stockbroker Hargreaves Lansdown in London. "Further out, the group's exposure to the regions which are causing it problems today may yet return to being an asset rather than a liability."
Winters's job cuts follow competitors Deutsche Bank AG and Credit Suisse Group AG outlining in recent weeks plans to eliminate about 32,000 positions combined. Barclays Plc, which is led by Winters' former JPMorgan colleague Jes Staley, last week cut its profitability target for 2016 amid rising charges for misconduct and restructuring. UBS Group AG on Tuesday postponed next year's profitability target.
At Standard Chartered, which generates most of its revenue in Asia, income dropped 18 percent to $3.7 billion in the third quarter from a year earlier, while impairments on loans more than doubled to $1.2 billion.
Quarterly Loss
The third-quarter loss reflects "challenging conditions in the group's key markets" as well as "depressed commodity prices and the broader impact of the slowdown in China," the bank said in the statement. Analysts in a Bloomberg survey had forecast a pretax profit of $903 million in the period, with revenue seen at $4.1 billion.
"We have identified $20 billion of risk weighted assets outside of our current risk tolerance of $320 billion total" and "we will liquidate these," Winters said on a call.
HSBC Holdings Plc, which also generates most of its earnings in Asia, said on Monday third-quarter pretax profit rose 32 percent to $6.1 billion, beating analyst estimates, as lower operating costs and litigation charges offset a drop in revenue.
'Challenging Environment'
"The business environment in our markets remains challenging and our recent performance is disappointing," Winters said. "We will execute as quickly as possible to get through this transition phase."
All four of the bank's divisions reported a drop in revenue in the third quarter, with a 18 percent decline to $2.1 billion at the corporate and institutional business, the largest unit. The retail business had revenue of $1.3 billion, down from $1.5 billion.
Standard Chartered targets a return on equity, a measure of profitability, of 10 percent, with Winters seeking to expand assets under management at the private banking and wealth management by $25 billion by 2018. Income from wealth management was $399 million in the third quarter, down 9 percent in the year.
The bank plans to restart its dividend payments in 2016, Chief Financial Officer Andy Halford said on a call on Tuesday.
At Credit Suisse, Switzerland's second-largest bank, new CEO Tidjane Thiam said last month that he plans to focus on wealth management, when cutting some 5,600 jobs and tapping investors for 6.05 billion Swiss francs ($6.1 billion).
"If everyone's trying to do it it's going to be a bit of a struggle," said Alan Higgins, chief investment officer at Coutts & Co. in an interview on Bloomberg Television, referring to Winters' push to follow other banks in growing asset management. However "Standard Chartered, I imagine would focus more on the Asian market and they're pushing on an open door there with all of their connections."
(Corrects target for assets under management in story published Nov. 3.)
Before it's here, it's on the Bloomberg Terminal.
LEARN MORE