These Charts Suggest the Market May Have Had Enough of Share Buybacks
Or at least, the bond market probably has.
It's no secret that companies have been borrowing in the bond market to pay their shareholders through generous buybacks.
But Citigroup credit analysts, led by Stephen Antczak, suggest that the robbing Peter to pay Paul dynamic that has dominated the investment landscape in recent years may be coming to an end as the credit cycle begins to turn and a meaningful pickup looms in the corporate default rate.
In fact, they say, there is evidence this is already happening.
The three-fold increase in share buybacks in the past five years has been the key driver of corporate re-leveraging. In large part, buybacks have been the result of strong incentives provided to corporate managers by activists in particular and equity investors in general ... Companies that spent more on shareholder handouts and less on investments have tended to get higher price/earnings ratios in the market. But there are signs that this may be changing. Recent conversations that we've had with equity [portfolio managers] suggest that they have become far more focused on revenue growth, and are placing far less of a premium on any financially engineered EPS growth. The fact that a basket of stocks that [has] been reducing shares outstanding is meaningfully underperforming the S&P 500 on a beta-adjusted basis suggests that this view may not be that of just the investors we talk to, but far more broadbased (Figure 1).

Source: Citigroup
The theory here is that as the credit cycle turns and the prospect of an increase in the corporate default rate becomes a reality for the first time in many years, shareholders who have a claim on the future cash flows of companies will stop rewarding behavior that might meaningfully jeopardize those cash flows. Corporate leverage, or company indebtedness, has already been rising, much to the detriment of bond investors. "We have seen signs that shareholders' absolute dominance over bondholders may become a bit more balanced looking forward," Antczak and his team conclude.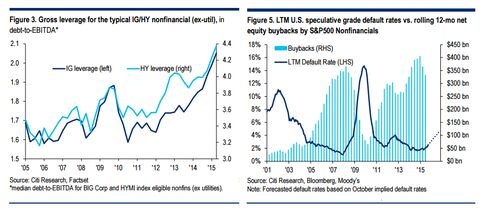 Before it's here, it's on the Bloomberg Terminal.
LEARN MORE