Paris Fog Spells Embarrassment One Month From UN Climate Talks
France aims for a binding deal at UN climate talks in Paris

Critics say French domestic policies don't match diplomacy
It's a coughing matter for the French government.
Smog engulfed Paris Monday as particle matter levels breached regulatory thresholds, serving French President Francois Hollande an embarrassing reminder that a much-desired climate deal will require more than just diplomatic chatter. Hollande will play host to world leaders next month when they gather in the French capital for COP21, a United Nations conference intended to produce a joint plan to counter global warming.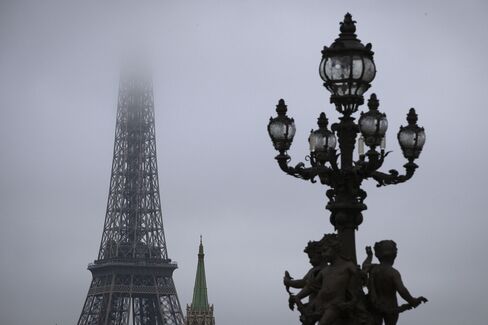 Hollande, who wants to make France an example for the 195 nations participating, was in Beijing Monday pressing Chinese President Xi Jinping to commit to policies needed for a broader accord. The two leaders signed a 21-point agreement that the French president touted as laying the conditions for success at the Paris meeting that begins Nov. 30.
"As a major economy, China is a major emitter but it is also a leader in green technologies," Hollande said.
Also in China, Energy and Environment Minister Segolene Royal spent part of her time battling accusations that the government isn't acting to prevent smog in Paris.
"If pollution continues tomorrow and local authorities request traffic limitations, they'll be granted," she said on RTL Radio. Paris Mayor Anne Hidalgo earlier called for faster implementation of extraordinary measures to curb particle emissions.
France has proposed that the 28-nation European Union cut greenhouse gas emissions by 40 percent by 2030 and aims to convince the Paris conference participants to approve the first binding agreement since the Kyoto protocol in 1997.
Still, critics at home say domestic policies aren't matching a pledge to make France "the nation of environmental excellence." Since Sunday, government-funded agency Airparif has warned that levels of fine particulate matter are at unhealthy levels in the Paris region.
"We requested traffic limitations as early as Saturday, given pollution forecasts for Sunday, and we requested automatic measures," environmentalist party EELV's Emmanuelle Cosse said on I-Tele on Monday. "No advances have been made on the problem in the past two years. Today there is a pollution peak and polluting cars are still allowed out while children and people with respiratory issues have to stay at home."
The French stance on car exhaust has sparked similar controversy. Cities including Paris have blamed the government for failing discourage the use of diesel fuel, considered partly responsible of smog episodes. Royal last month announced steps to end tax breaks for the fuel after decades of incentives made diesel the engine of choice for new car buyers.
Before it's here, it's on the Bloomberg Terminal.
LEARN MORE