Nissan Raises Full-Year Profit Forecast as Demand Rises in U.S.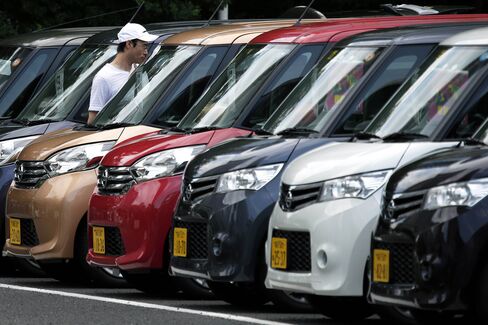 Earnings forecast also raised on `cost discipline', weak yen

Automaker lowers global sales target to 5.5 million units
Nissan Motor Co. raised its full-year profit forecast as Japan's second-biggest automaker reaps benefits from an increase in U.S. demand and a weaker yen.
Net income may rise 17 percent to 535 billion yen ($4.4 billion) in the year through March, Nissan said Monday. That's up from the company's 485 billion yen forecast made in May and in line with analysts' estimates compiled by Bloomberg.
Nissan is benefiting from a robust U.S. market that registered the fastest pace of sales growth in more than a decade, boosting demand for its Rouge crossovers and Altima sedans and offsetting weak sales in Japan and China. Low interest rates and gas prices have helped General Motors Co. post a record quarterly profit while Ford Motor Co. doubled its net income.
"The strong U.S. demand is making up for weakness in many other markets, including Japan," said Seiji Sugiura, an analyst at Tokai Tokyo Research Center. "But they can't count on the U.S. forever because the market will peak out and their model mix will deteriorate."
Nissan raised its full-year revenue forecast to 12.25 trillion yen and operating income to 730 billion yen, citing strong demand in North America, "cost discipline" and gains from a weak yen. The automaker has based its forecast on 119.4 yen to a U.S. dollar, compared with an earlier estimate of 115 yen. Nissan cut its global sales target by 50,000 units to 5.5 million units, citing weak demand for commercial vehicles in China.
The carmaker's net income increased 38 percent to 172.8 billion yen in the quarter through September, beating analyst estimates.
Trump's Lament
Donald Trump took aim at Japanese automakers benefiting from a weaker yen, remarking on "the biggest ships I have ever seen" loaded with Japanese cars in Los Angeles, while saying he will bring jobs back to the U.S. from Asia's two largest economies.
Japanese companies including Toyota Motor Corp. have enjoyed record profits under Prime Minister Shinzo Abe, who has been credited with weakening the yen. Nissan's sales in the U.S. climbed 6.6 percent in the six months through September, outpacing the industry. Deliveries were boosted by demand for its Rogue crossovers.
Shares of Nissan fell 2.1 percent to 1,240 yen in Tokyo, before the earnings announcement. The benchmark Nikkei 225 Stock Average declined 2.1 percent.
China Sales
In China, Nissan's sales fell 2.6 percent in the six months through September, dented by a slump in light commercial vehicle demand as economic growth cools. A tax cut by the government starting October provided respite, boosting the company's passenger car deliveries in the country by 19 percent.
Nissan is struggling to boost sales in Japan after an increase in the sales tax last year dented consumer demand. Deliveries in its home market have declined for 16 straight months through September.
At the earnings briefing on Monday, Nissan Chief Competitive Officer Hiroto Saikawa said the Japanese government fully supports the carmaker's concern over the French state's growing influence on its alliance with Renault SA, as tensions mount over control of one of the most successful automaker partnerships.
Before it's here, it's on the Bloomberg Terminal.
LEARN MORE