Five Wild Stats From October ETF Flows
Money flowed into stocks, bonds, and emerging markets in October.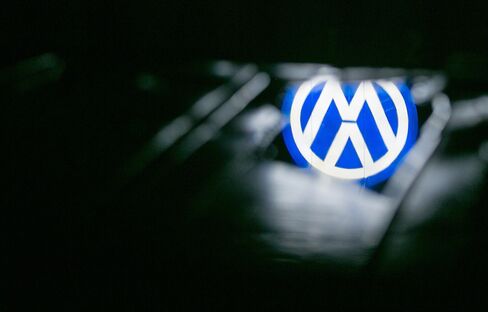 The leaves and the weather weren't the only things that changed in October.
Investor sentiment also shifted sharply across the board as shown in the month's exchange-traded fund flows. While ETFs as a whole brought in $28 billion of extra investment—keeping them on pace to break last year's record—the interesting news can be found inside specific asset classes.
Here is a look at five statistics drawn from October ETF flows that show major trend reversals.
1. U.S. Equity ETFs Brought in More Cash in October Than the Rest of the Year Combined
U.S. stock ETFs took in $10 billion, nearly double the $6 billion total they had attracted this year until October. The flows were no doubt sparked by the Federal Reserve's decision not to raise interest rates in September, which helped trigger a sizable 8.5 percent jump in the S&P 500 Index. Until this point, the U.S. equity ETF market might have been described as "meh" compared with international developed markets, such as Europe and Japan, where central banks were in full-blown quantitative easing-mode, attracting ETF investors like moths to a light. In October, the opposite happened.
U.S. Equity ETFs International Equity ETFs
Jan.-Sept. $6 billion $87 billion
Oct. $10 billion $5 billion
2. U.S. Corporate Bond ETFs Took in the Most Money Ever
Not to be outdone by stocks, U.S. corporate bond ETFs took in $8.3 billion—the most money ever in a month. The majority of that cash came courtesy of high-yield bond ETFs, which took in $5.6 billion to shatter their previous one-month record. The SPDR Barclays High Yield Bond ETF (JNK) took in $2.7 billion—the most of any ETF—barely edging out the iShares iBoxx $ High Yield Corporate Bond ETF (HYG), which took in $2.5 billion. Until October, junk bond ETFs had seen half a billion dollars in outflows. Investment-grade corporate bond ETFs also had a record haul of $4.8 billion, led by the iShares iBoxx $ Investment Grade Corporate Bond ETF (LQD). LQD took in $2.6 billion—the largest monthly inflow by far in its 13-year life.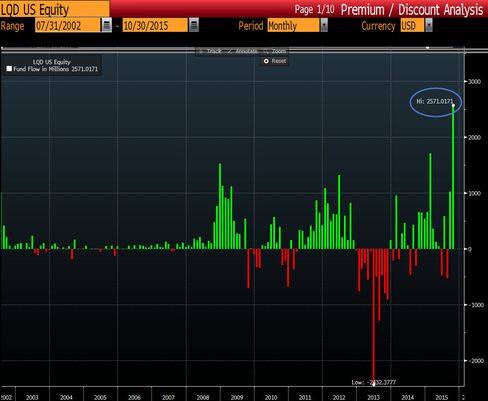 One interesting thing to note is that last Wednesday the Fed (for the umpteenth time) used language that left the door open for a rate hike in December. Normally, that would mean at least the start of some outflows, but not this time. In fact, corporate bond ETFs took in half a billion in the last three days of the month—a possible sign that investors are growing numb to Fed-speak after years of the central bank crying wolf on interest rate rises. Or they are just planning to hang out a while longer to get more juice out of those corporate bond ETFs before bailing to U.S. Treasuries or cash at the last minute.
3. Emerging Market ETFs Didn't See Outflows
Not only did emerging market ETFs not lose money for the first time in ages, but they actually took in $1.6 billion. This comes after 12 months of outflows that totaled $7.2 billion. The reversal in sentiment was from both long-term allocators as well as the hotter institutional money. Popular ETFs of buy-and-hold investors, such as the iShares Core MSCI Emerging Markets ETF (IEMG), took in $900 million, but hot-money favorites also saw inflows, including the iShares MSCI Emerging Markets ETF (EEM), which took in $700 million. It is a good sign for EM when both IEMG and EEM see big creations.
4. Health-Care ETFs Led All Sectors in Outflows
Until October, health care was the golden-boy sector crushing all other sectors with inflows of $9.1 billion. Then October happened, and health care saw $1.2 billion exiting—more than any other sector. The catalyst for this major sentiment shift was the selloff in biotech sparked by a tweet from Hillary Clinton that she would look into price gouging in the pharmaceutical industry. At least some of the money that came out of health care rotated into real estate, consumer staples, and technology, as seen in the chart below.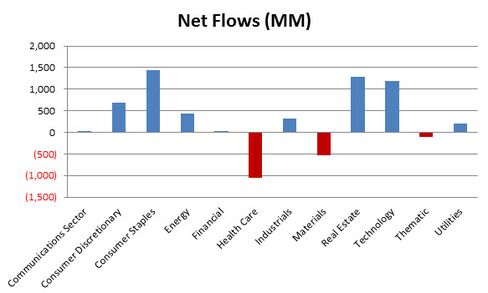 5. Germany ETFs Saw Half a Billion Dollars in Outflows Despite Double-Digit Returns
Normally flows and performance are correlated, but not in Germany's case. After taking in $4.9 billion this year through September, ETFs that invest in Germany suffered $600 million in outflows in October—four times more than any other country, and despite a rally in the market. Investor confidence has been spooked since the Volkswagen scandal rocked the country in September and left Germany's automobile market vulnerable. The cash mostly came out of two ETFs: $354 million from the iShares MSCI Germany ETF (EWG) and $191 million from the iShares Currency Hedged MSCI Germany ETF (HEWG). The latter invests in the other fund, while hedging against the euro to avoid currency exposure. Both have about 15 percent allocated to the auto manufacturers.
Eric Balchunas is an exchange-traded-fund analyst at Bloomberg. This piece was edited by Bloomberg News.
Watch Next: Here Are Some Charts That Haunt Wall Street
Before it's here, it's on the Bloomberg Terminal.
LEARN MORE