Electrolux Plummets After U.S. Rejects GE Settlement Offer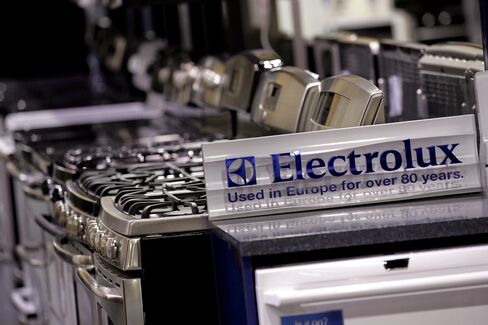 Shares fall the most in four months in trading in Stockholm

DOJ sued to block $3.3 billion deal for GE appliance unit
Electrolux AB plunged in Swedish trading after the U.S. Justice Department rejected a proposal to resolve a government lawsuit seeking to block the $3.3 billion takeover of General Electric Co.'s household-appliance business.
The shares fell the most since July 2, when the DoJ filed a suit to block the GE deal, and were trading 6.5 percent lower to 235.6 Swedish kronor at 9:55 a.m. in Stockholm.
The Stockholm-based company's offer to sell assets falls "well short" of replacing the competition that would be lost as a result of the deal, Ethan Glass, a lawyer for the department's antitrust division, said at a hearing Friday in a Washington federal court.
The U.S. claims the tie-up threatens to raise prices for consumers. The government's lawsuit against Electrolux and Fairfield, Connecticut-based GE to block the deal is set to go to trial on Nov. 9 before U.S. District Judge Emmet Sullivan, who encouraged the two sides to continue talking.
Electrolux spokesman Paul Palmstedt said the company isn't currently in discussions with the department on a settlement.
"We are preparing to present our case in court," Palmstedt said by phone Monday. "We don't share the Department of Justice's assessment, and are convinced about the merits of our case."
Had the Justice Department accepted Electrolux's offer, the uncertainty about whether the deal will go through would have been removed, analysts at Morgan Stanley said in a note published Monday. "At this stage, we might need to wait until the beginning of 2016 to have visibility on the outcome."
Glass has implied that the DoJ and Electrolux are far apart in the negotiations. "We're on earth and they're on Mars," he said last month.
"I'm not an astronomist, so I can't specifically speak to that," Electrolux Chief Executive Officer Keith McLoughlin said in a phone interview Oct. 23 when the maker of AEG stoves and Frigidaire refrigerators released third-quarter earnings. The company still aims to close the deal before year end and its latest offer was "substantially different from the original proposal," he said.
Before it's here, it's on the Bloomberg Terminal.
LEARN MORE