Sweden Risks Breaching Budget Ceiling to Pay for Refugees
Government expected to ask for higher budget spending limits

Sweden may also need to cut expenditure and raise taxes
Sweden's generous refugee policy is proving costly.
Magdalena Andersson risks becoming Sweden's first finance minister to breach the budget ceiling since the current fiscal policy framework was put in place in 1997.
Her finances are buckling under a wave of refugees that could reach more than 350,000 people this year and next, equal to almost 4 percent of the population. The migration agency sees refugee costs reaching 60 billion kronor ($7.1 billion) next year, double its earlier forecast.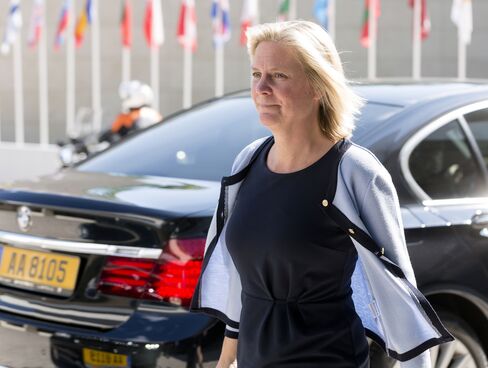 That spells trouble for the ruling Social Democrat-led coalition, which in its 2016 budget only has a buffer of 17 billion kronor before it hits the spending ceiling. While breaching that limit has no legal ramifications, it would be politically difficult for the minority government. It's struggling in the polls and coping with a legacy of deficits left over from the financial crisis.
"If they breached the ceiling without saying so, that would go against tradition," said Anna Breman, an economist at Swedbank AB. "It's more likely that they'd try to ask for a raised ceiling and refer to the fact that it's an extraordinary situation."
The government already gave itself more room earlier this year, lifting the ceiling for next year by 4 percent. The former administration, ousted in 2014, kept increases within 1.2 percent a year this decade.
According to Lars Calmfors, the former chairman of Sweden's Fiscal Policy Council, it also looks like the government is trying to circumvent rules by this year paying out an extra 10 billion kronor in refugee aid to municipalities. But most of that money probably will only be used next year.
"This is very problematic, it seems like the government is trying to manipulate the ceiling in order to avoid breaking it," Calmfors, who's a professor of economics at Stockholm University, said in an interview. "It's better if the government is transparent and raises the expenditure ceiling. Spending should be recorded in the right year."
Andersson said on Monday that while it will take longer to return to a surplus because of the refugee situation, she doesn't currently see a need to raise the ceiling.
"If the number of asylum seekers turns out very different from what's in the migration agency's forecast, we can't exclude the possibility that we'll end up in a situation where we'll have to change the ceiling,'' the finance minister told reporters after attending a bank summit arranged by SvD in Stockholm.
While the government's partner, the Left Party, has called for the ceiling to be lifted, Andersson has instead focused on cutting costs as well redirecting foreign aid to refugee arrivals in Sweden.
Calmfors said it would make sense if the limit is raised for next year, but there may also be a need for both spending cuts and tax increases.
"The government ought also to reconsider some of its expenditure-raising reforms, both those already carried out and those that have been proposed for next year," he said. "The question is whether it can afford all of them."
Before it's here, it's on the Bloomberg Terminal.
LEARN MORE