Philippines' Aquino Plans a Big Pay Rise for Himself and State Workers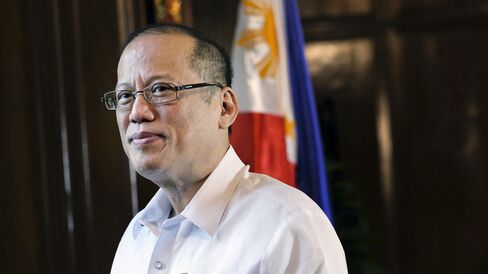 Philippine president's monthly salary could triple to $8,500

Move seen aiding consumption, growth as election nears
Philippine President Benigno Aquino is taking advantage of a strengthening budget to overhaul the salaries of about 1.3 million government workers in his final months in office, a move that could boost both civil service morale and the economy as the nation prepares for an election next year.
The government will propose a bill that would raise the president's monthly pay to almost 400,000 pesos ($8,500) from 120,000 pesos now. The change would put the wage at about 70 percent of the average salary of top executives in private companies, up from 23 percent, said Budget Secretary Butch Abad. Compensation for state workers will rise to about 84 percent of the average market rate from the current 55 percent, he said.
"This is going to be one of the more aggressive enhancements in the pay of our government workforce," Abad said in an interview Oct. 29 in Manila. Congressional leaders have committed to pass the bill before they go on a break in December, he said.
From efforts to speed up state outlays to higher wages, Aquino is accelerating bids to boost an economy that the World Bank forecasts will expand less than 6 percent this year for the first time since 2011. Higher tax revenue provides room for Aquino, who steps down in June 2016, to raise the pay of state workers and help lure better-educated graduates to join the government.
"This is a welcome boost to consumption spending and coupled with election-related spending, the government has a strong chance of boosting growth to more than 6 percent next year," said Jonathan Ravelas, chief market strategist at BDO Unibank Inc. in Manila. "With an improved balance sheet, it's ensuring that its workers are more motivated and having a competitive salary will help that."
Middle Managers
The government allotted at least 50 billion pesos in the proposed 2016 budget to cover the pay increase, Abad said. Middle managers, including directors and executive directors, are set to receive the largest wage increase as they face the biggest disparity compared with their private-sector counterparts, Abad said. The last public pay rise was in 2012.
Should the bill get passed, Aquino will earn more than Malaysian Prime Minister Najib Razak who is paid 22,826 ringgit ($5,300) a month. Wages of Southeast Asian leaders vary widely with Singapore Prime Minister Lee Hsien Loong earning S$2.2 million ($1.57 million) a year, while in Vietnam, Prime Minister Nguyen Tan Dung was paid a net salary of 17.17 million dong ($770) a month in 2013.
The Philippine budget deficit in the January-to-August period was 3.4 billion pesos as state spending faltered. That compares with the full-year deficit goal of 283.7 billion pesos.
"The government has fiscal space to implement this and it wouldn't affect their fiscal position," said Michael Wan, a Singapore-based economist at Credit Suisse Group AG. "The key would be implementation. They shouldn't raise wages too fast as it could have a knock-on impact on other sectors where they'll be forced to increase wages also to prevent losing people to the government."
Aquino's proposal could be seen as a move to bolster support for his party, which is putting forward former Interior Minister Mar Roxas as its presidential candidate in the May election, said Sonny Africa, executive director of IBON Foundation Inc. in Manila.
"The timing of the proposed salary increase, even if it is not immediately implemented, shows that it is for purposes of politicking," Africa said. "It dangles the thought that to implement this increase, we need continuity, so you need to support our slate, our team."
Before it's here, it's on the Bloomberg Terminal.
LEARN MORE