Caesarstone Shares Hinge on Americans Buying Quartz Countertops
Shares in company founded on kibbutz have fallen 41% this year

Third-quarter earnings will be key to winning back investors
Caesarstone Sdot-Yam Ltd. really needs more Americans to remodel their kitchens.
After rallying more than fivefold since its initial public offering in 2012, the maker of quartz countertops had its market capitalization cut in half by short sellers, who saw a second-quarter slowdown in U.S. sales growth as signs of deeper problems at the company. Three months and a 50 percent rout later, shares trade at about two-thirds the valuation of industry peers. The verdict on Wall Street? The stock now looks cheap.
With more than 40 percent of sales in the U.S., the company founded in Israel on a kibbutz overlooking the Mediterranean Sea has a lot to prove when it reports third-quarter earnings Nov. 4. Bearish investors will look for plans on how the company can broaden its appeal to less affluent customers: A quartz slab for a typical home in Manhattan will cost $2,400, compared with $1,400 for a cheaper alternative in granite.
"It's going to be all about the U.S. growth number," says Susan Maklari, an analyst with UBS AG in New York. "The whole story here revolves around gaining share in the U.S. and continued roll out of this product and bringing a new plant online to support that. If for some reason that doesn't come through, then what does that mean for this whole story?"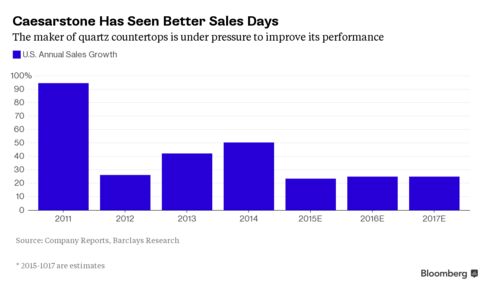 Caesarstone, named after the ancient ruins of what was once a Roman port, posted its weakest revenue growth on record in the second quarter. Its downfall was a focus on the richer end of the U.S. home market. That meant missing out on growing sales opportunities in more affordable buildings like apartments and condominiums, the company said.
Chief Executive Officer Yos Shiran has said he expects sales growth in the U.S., the company's biggest market, to pick up in the second half of this year. Citing an earnings quiet period, the company declined to provide further details.
Caesarstone cut its sales forecast to as low as $495 million on Aug. 5, compared with a previous estimate of as much as $525 million. Revenue is forecast to rise 12 percent this year, less than half the 25 percent jump in 2014, according to the average estimate of five analysts surveyed by Bloomberg.
Bearish bets against Caesarstone have come down dramatically, from a peak of 8 percent of shares outstanding on Aug. 24, to 3.3 percent as of Oct. 29, according to Markit, a London-based research firm. The stock fell 1.7 percent last week to close at $35.51, down from a peak of $71.74 on July 31. It slumped 0.2 percent at 9:45 a.m. on Monday in New York.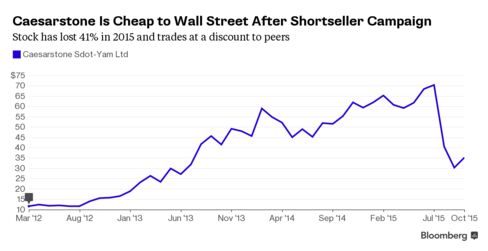 New Factory
While sales growth in the U.S. slowed, Caesarstone is adding capacity. It opened the first production line at a new plant in Georgia in the second quarter, and plans to open a second one in the last quarter of 2015, bringing the total to seven.
This has become yet another potential concern for investors. Ben Axler, managing partner at Spruce Point Capital Management, helped fuel the rout in Caesarstone shares with a negative report in August. He insists the stock has further to fall because of overcapacity at the Georgia factory and pricing pressure from competitors.
"If they're saying that they'll get back to 90 or 100 percent capacity within the next year, it will probably be positive," said Josh Kaplan, an analyst with Bluestar Global Investors LLC in New York. Taking two or three years would be "a very scary scenario."
Before it's here, it's on the Bloomberg Terminal.
LEARN MORE