VIX Bets at Record Show Widening Divide on Outlook for S&P 500
Both long and short VIX funds have record shares outstanding

Deutsche Bank's Fishman sees this leading to more volatility
Betting U.S. stock volatility will increase has never been more popular. Nor has betting it will decrease.
Such is the situation in exchange-traded notes that track the VIX, where shares outstanding have swelled to records in securities that are both short and long the Chicago Board Options Exchange Volatility Index, data compiled by Bloomberg show. The rush to hedge has picked up speed since a six-day tumble that lopped 11 percent off the Standard & Poor's 500 Index in August drove the VIX to a four-year high, only for a subsequent stock rally to send it tumbling back down to earth.
"When volatility gets low, investors tend to increase positions in long volatility instruments," said Rocky Fishman, an equity derivatives strategist at Deutsche Bank AG. "At the same time, we've seen tremendous growth in short VIX products, mostly in the aftermath of the August selloff. Positions are large on both ends."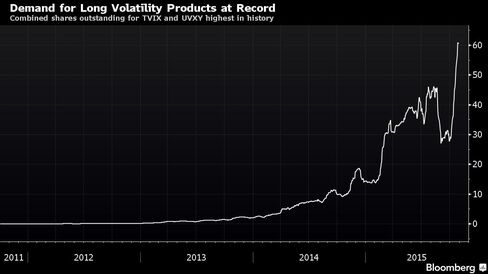 Investors are animated even as the VIX flashes calm. It's been below the 20 level for 20 straight days after rising on Aug. 24 to 40, the highest since October 2011. The measure climbed 3.2 percent to 15.07 at 4 p.m. in New York, in line with its average for the past two weeks.
As options traders plow money into volatility exchange-traded products, the size of those securities could become an influence on the market itself, especially if equities hit another rough patch, according to Fishman. Should the index of price swings start to climb quickly, issuers of both long and short volatility notes will need to buy VIX futures to fulfill client orders, creating pressure that could conceivably seep into the underlying gauge, he said.
"Having very large outstanding positions in both short and levered VIX ETNs will, by nature, make volatility move faster," said Fishman. "Even though they have opposite exposures to volatility, they will trade in the same direction on another large move in the volatility market."
To Russell Rhoads of the CBOE, a sharp increase in VIX futures buying isn't guaranteed to translate into more volatility in the underlying index.
"VIX futures trading doesn't necessarily lead to trading that influences spot VIX," said Rhoads, senior instructor with the Options Institute at the CBOE. "It's very difficult for me to come up with a scenario where we see VIX influenced by trading around ETNs or ETFs."
Further, not all money managers see the U.S. stock market repeating its August spasms. The stimulus being pumped into the economy by central banks around the world will keep price swings subdued, according to Dan Deming of KKM Financial LLC.
The Federal Reserve on Wednesday kept interest rates pinned near zero, and signaled it will maintain accommodative policy until economic data firm. While economists remain divided on the prospects for the Bank of Japan to add to record stimulus, China cut its interest rate and the European Central Bank signaled last week that it's prepared to add to bond purchases this year if warranted.
"As long as you to continue to see what appear to be very sizable liquidity bond-buying programs constantly being re-initiated, it'll keep volatility under control," said Deming, a Chicago-based manager at KKM Financial. "It's a constant backstop, and it's hard to fight the central banks."
There's no denying the popularity of contracts that treat the VIX as an asset unto itself, with futures tied to its price traded virtually around the clock by hedge funds and other speculators. Those contracts are, in turn, the basis for some of the most heavily traded ETPs in America. Once obscure, they now have combined volume in the hundreds of millions of shares each day.
Shares outstanding in the VelocityShares Daily 2x VIX Short-Term ETN have increased by almost four-fold to 44 million since the start of 2015. The ProShares Ultra VIX Short-Term Futures ETF has seen shares surge by six times to almost 17 million. The outstanding exposure for the two long-positioned funds is the highest on a combined basis since the so-called TVIX started trading in November 2010.
The same has been true for instruments either betting on a VIX decline. Both the VelocityShares Daily Inverse VIX Short-Term ETN and the ProShares Short VIX Short-Term Futures ETF have seen shares outstanding rise by more than 30 percent this year. The combined total for the two products climbed to 68 million on Sept. 28, which was the highest since December 2011, less than a year after they started trading.
Swelling interest in exchange-traded products linked to volatility has the potential to amplify moves in the VIX as dealers of the products hedge investors' positions, according to Maneesh S. Deshpande of Barclays Plc. He doesn't consider it a "major source of concern" at present time, but can see it becoming an issue.
"If these products were to become even more popular, then they could start becoming a source of concern," said Deshpande, head of equity derivatives strategies at Barclays. "The worry has always been that if they become very big, then they could exacerbate the volatility in VIX futures."
Before it's here, it's on the Bloomberg Terminal.
LEARN MORE