Senators Take On Law Schools for Failing Students
Some JD programs are leaving students in debt, without hope of a job.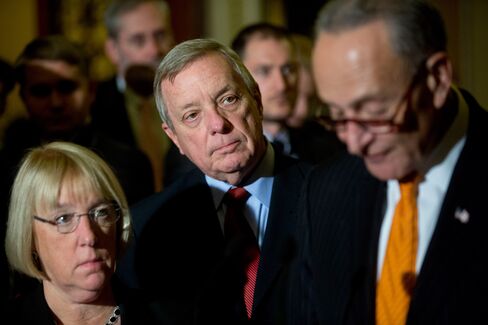 Law schools just made some new enemies. This week, lawmakers from both parties sharply criticized U.S. law schools for leaving students with overwhelming debt and degrees that may not get them jobs.
"We need to move away from a system that results in too many law school graduates twisting in the wind," said Senator Chuck Grassley (R-Iowa) in an e-mailed statement. Putting law graduates in a position from which they might default on federal loans "isn't good for the graduates, and it isn't good for the taxpayers," he added.
Grassley said he was "troubled" by problems illustrated in a new report by Law School Transparency, an advocacy group. The report highlighted the large numbers of under-prepared students being accepted into law schools. Test scores have declined for the lowest-achieving students since 2010 at the majority of law schools. Padding classes with underqualified students, the report said, is "leaving thousands deep in debt with few prospects for employment that will enable them to pay off their debt."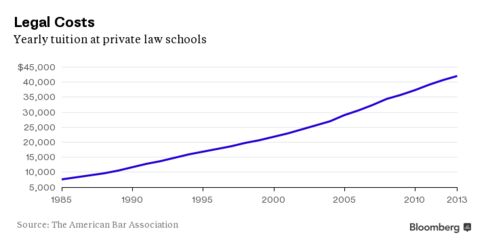 Bar exam pass rates have fallen precipitously for the second year in a row. During the summer, scores on the standardized portion of the bar exam hit their lowest point since 1988.
On Monday, Senator Dick Durbin (D-Ill.) blamed the government's generous loan programs for encouraging troubled law schools to hike prices. In 2006, Congress made new federal loans available to graduate students, allowing them to take out as much debt as they want in order to finance their education.
"Now that we've taken the cap off what you can borrow for graduate courses, they have decided they are going to just charge to the heavens in terms of tuition for worthless, worthless law school degrees" said Durbin, at a Congressional meeting on student debt this week, referring to for-profit law schools.
By 2013, the sticker price at private law schools had shot up to nearly $42,000, from $25,600 in 2003. The typical law graduate held $118,600 in debt, according to Law School Transparency.
"When I ask the presidents of universities 'Why do you charge so much to go to law school?' they say 'Because we can; the students are applying and they'll pay whatever we tell them,'" Durbin said.
The American Bar Association, which accredits law schools, has a rule aimed at preventing institutions from enrolling people who don't have a shot at eventually becoming lawyers. The organization needs to start enforcing it, said Kyle McEntee, the executive director of Law School Transparency.
"Schools aren't supposed to be admitting people who aren't capable of passing the bar. The ABA has never enforced this standard, and they need to start."
Correction: an earlier version incorrectly said scores on the LSAT hit their lowest point since 1988. Scores on the bar exam hit their lowest point since 1988.
Before it's here, it's on the Bloomberg Terminal.
LEARN MORE